Introduction to VMware vSphere 5: Deployment and Troubleshooting
This free online course is designed for system administrators for support and troubleshooting of ESXi 5 Server.
Publisher:

Workforce Academy Partnership
VMware vSphere 5.0 is the industry-leading virtualization technology platform accelerating the shift to cloud computing for existing data centers. This free online course combines theoretical knowledge with hands-on labs. Learn how to install, configure, manage, and troubleshoot VMware ESXi 5.5. Begin this short but comprehensive course now and improve your system administration skills today.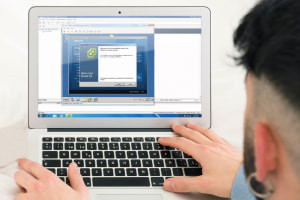 Duration

5-6 Hours

Accreditation

CPD
Description
'Introduction to VMWare vSphere 5: Deployment and Troubleshooting' is an intensive course that combines theoretical knowledge with hands-on labs. It teaches you how to install, configure, manage and troubleshoot VMware vSphere 5.5. It includes VMware ESXi 5.5 and VMware vCenter Server 5.5. The VMware Ultimate Bootcamp vSphere 5 course teaches advanced virtualization concepts and the VMware methodology. The course also explores the VMware vSphere 5.0 product suite. This comprehensive series prepares you to become a professional virtualization expert. The objective is to instill the knowledge required for you to do your job efficiently and effectively, starting from installation of the product to real-world troubleshooting issues. The focus is not limited only to learning and harnessing the power of VMware but the entire concept of virtualization. Also, other third-party tools and technologies that enhance VMware capabilities and increase your virtualization expertise are discussed.
This course covers the fundamental tools and techniques required to plan, install and administer a VMware environment including disaster recovery and backup. It also teaches you about creating, configuring and securing virtual machines. You will get a basic understanding of licensing and different components of the VMware vSphere suite of applications. The course will be helpful in preparing for the virtualization examination from VMware. As a prerequisite, learners will need to have operational experience in managing and administering a Windows or Linux environment. Also, a know-how of virtualization technologies and cloud computing is an added advantage to best assimilate the advantages of virtualization. This course maximizes your training experience with hands-on labs based on real-world scenarios and is conducted with state-of-the art equipment. You will learn how to use tools to administer the VMware environment. You will also grapple with planning the ESXi deployment. It helps system administrators to understand ESXi architecture and work with ESXi compatibility requirements. Learn how to plan an ESXi deployment using the vSphere five deployment guidelines as well as vSphere Hypervisor installation. You will benefit from this course by learning how to configure hostname resolution and NTP, including Troubleshooting ESXi.
Finally, this course teaches you about vCenter Server 5 and licensing, configuring networks along with storage and security issues, as well as VM monitoring. In short, it covers all the concepts related to virtualization, including different third-party tools and technologies so that you can increase your virtualization knowledge. The purpose of the course is to prepare you to become a virtualization expert. You will gain key insights into the constant evolution of cloud based data centers, hybrid cloud modeling and pooled vRAM Licensing. Explore the setting up and managing of multiple hosts, mastering vCenter 5.0 services and how to maximize data center efficiency. A major objective of this course is to enable you to maintain VMware licensing compliance policies. It will help you to work efficiently in real-world troubleshooting issues from the installation process to the upgradation and security system. This course prepares students to become professional virtualization experts and get certifications to attest to their knowledge of the material and technology. Start this course today and boost your IT career skills!
Start Course Now