VMware vSphere 4.1: Planning, Installing and Administering Virtual Machines
This free beginner's system administration course describes the steps for planning, installing and administering VMware.
Publisher:

Workforce Academy Partnership
'vSphere 4.1; Planning, Installing, & Administering VM' is a free online course for beginners that introduces you to virtual machines. To get started, you must install VMware Tools in the guest operating system. This course provides an overview of installing and configuring a vSphere environment. Learn how to configure hostname resolutions and manage ESX/ESXi.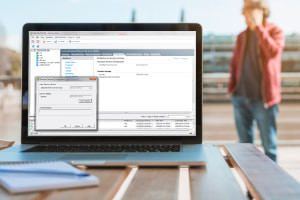 Duration

3-4 Hours

Accreditation

CPD
Description
Have you ever wondered how you can automatically install the Windows agent on all machines or how to fix error issues encountered when logging on to the VCM server? 'VMware vSphere 4.1; Planning, Installing, and Administering Virtual Machines' is a free course that gives you an overview of installing and configuring a vSphere environment. You will quickly become familiar with the core features of vSphere, along with how to install and configure them. This course is designed for beginners, and no prior experience working with vSphere is required. In this course, you will see how the methodology of VMware is designed in a way that you can learn it, do it, and know it. You will get to understand the challenges, needs, and requirements in the marketplace with regards to different virtualization products including all of your cloud products.
The course covers how to configure the hostname resolution and NTP server. It defines a hostname, an IP address, as well as shows how to configure the DNS and NTP settings. It will also explore how to plan the deployment of ESX and ESXi. Completing this course will help you identify the physical requirements before installation. You will learn how to create and configure virtual machines. The steps for installing vCenter, as well as the concept of vSphere Client, will also be covered. You will be guided through every step on the process of installing, and configuring ESXi and vSphere for a development and testing lab. This course helps the learner develop an understanding of how to verify that the ESXi host is accessible from vCenter server or vSphere Client. This tutorial gives you a step-by-step guide on the ESX/ESXi server health check. With the growing popularity of VMware Infrastructure & ESX Server, numerous third-party tools are available for ESX Server. In this course, examine how to use several tools to administer the VMware environment.
Finally, you might have observed that the management agents synchronize VMware components. It also allows you to access the ESXi host through the vSphere Client or vCenter Server, you will learn all it is to manage the ESX/ESXi infrastructure. You will learn about the basic Linux command and its importance. This course develops your skills and competence in using the command-line interface, the Log files, and other tools to analyze and solve issues. For instance, if a user can not connect to the host through the vSphere client, that host is connected and available in vCenter. Completing this course will help you learn about troubleshooting the vSphere client. It explains how to resolve issues related to multiple vSPhere Client errors, such as error messages when trying to log in using vSphere Client. This course will be of significant interest to system administrators, system engineers, support, and technical staff responsible for installation.
Start Course Now