Microsoft Excel Formulas and Functions
Learn how Microsoft Excel formulas and functions can make you a spreadsheet expert in this free online course.
Publisher:

Paul Owusu Okyere
Microsoft Excel is a powerful tool that can help streamline your business processes and productivity but its many formulas, functions, and chart types to choose from can easily overwhelm you. Whether you are a beginner, intermediate or advanced user, this course offers plenty of shortcuts, tips and tricks to help you master Microsoft Excel by using the best formulas for your projects to increase business productivity.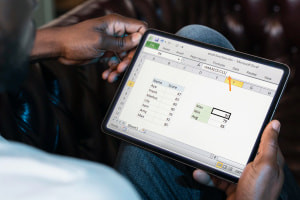 Duration

1.5-3 Hours

Accreditation

CPD
Description
Spreadsheet applications are very important in the modern world. Sound knowledge of spreadsheet applications such as Microsoft Excel and Google Sheets is essential for all individuals and organisations. Have you ever wanted to learn how to implement Excel formulas quickly? This course introduces you to Microsoft Excel formulas and functions in spreadsheets and their uses in the modern world. What is the first step to learning spreadsheets? To fully understand the concept of spreadsheet applications, you must first learn to define 'worksheets' and 'cell names' (cell references or cell addresses), along with other vital terminologies such as 'active cell', 'name box' and 'formula bar'. This set of topics will describe each one of these terminologies in detail, which in turn will enable you to understand how and where to enter and edit content into cells. Following this, you will become acquainted with differentiating between formula and function, gaining knowledge on the comparison operators such as 'greater than', 'less than' and 'not equal to', to mention a few. We will cover selected functions like 'minimum', 'maximum', 'sum', 'count', 'count blank', 'average', 'integer' and 'round'.
Many users find it challenging to use the nested 'IF' and 'COUNTIF' effectively. What can we teach you about these formulas? For one thing, we use simple terms to ease understanding for all user types. Combining functions in complex calculations is an essential skill. This content will prove to be very helpful in understanding all these different functions, including the use of advanced functions such as factorial and absolute value functions and the 'AND' and 'OR' function. These functions can be used to analyse different data types. Thus, the course easily explains all these elements. Then you will explore the 'concatenate' and 'log' functions and learn how to perform advanced calculations at home, school or the workplace. Microsoft Excel is useful to perform mode and mod calculations. This material highlights the significant uses of such advanced functions in today's world and the benefits of trim and truncating functions. We will consider the error messages, standard deviation and power functions in Microsoft Excel. But what will be the result of knowing this specific content? Any user can acquire sound knowledge of the error messages in Microsoft Excel and how they allow one to quickly fix errors.
By the end of this course, you will have a sound understanding of Microsoft Excel formulas and functions and other important spreadsheet tips, which will help you become a spreadsheet expert in your day-to-day activities. Once you complete this course, Microsoft Excel and other spreadsheet applications will become easier to use. Microsoft Excel is a powerful spreadsheet tool with advanced applications. Individuals who want to use spreadsheet applications like Microsoft Excel and enhance their expertise are encouraged to start this course. The content displays images for all formulas and functions. All users, especially beginners, need to study the formulas and functions carefully and the images presented. You can edit all examples to practise and meet your needs. How we have structured this course makes it attainable for everyone to learn Microsoft Excel formulas and functions with little effort. Consequently, you will acquire the knowledge, concepts and skills needed to become a spreadsheet expert in only three hours. Join this course and master the use of this powerful tool.
Start Course Now