Introduction to Python
Expand your coding skills as you learn how to create Python programs and scripts in this free online programming course.
Publisher:

SimonSezIT
This introductory class takes you step-by-step through the process of creating functions and scripts using Python. We explore the language's unique syntax and identify the common mistakes made by developers, both novice and experienced. You will master Python's operators, statements, loops, lists and dictionaries as we unpack the intricacies of this powerful and popular coding language.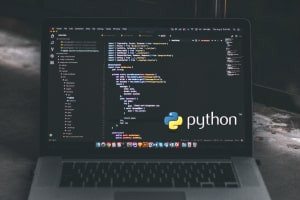 Duration

3-4 Hours

Accreditation

CPD
Description
We begin with a history of this famously readable language and explain its importance in the workplace before delving into source code and the core characteristics that define Python. We go through relevant documentation and demonstrate the use of the online utility 'Repl.it' instead of installing Python on your local machine. The account creation walkthrough will enable you to save all your code to return to after the course. We also discuss the basic data types that you will encounter as you discover how to create and manipulate information using Python.
We introduce you to the available built-in functions and keywords, focussing on the most popular examples, before moving on to variables. This brings us to basic mathematical operations like addition, subtraction and division and comparisons like greater, lesser or equal. We go through combination operators that can be used to create more complex comparative expressions as you become proficient in Python's debugging process to eliminate mistakes. This course teaches you how to use keywords to create readable programs, paying attention to basic logic and its effect on your applications. This leads us to the all-important 'if/else' statement, which you will master along with its 'elif' counterpart.
Finally, we wrap up with an overview of lists and dictionaries in Python and an analysis of their ability to alter data. This course offers a firm understanding of Python basics through coding lessons, demonstrations and supporting exercises. Strengthen your technical portfolio with this versatile global programming language that plays a key role in cutting-edge technologies from machine learning and A.I. to web design.
Start Course Now