This free online project management introductory course focuses on the fundamental principles and skills involved in successful project management. The course is primarily based on the American National Standards Institute (ANSI) and the Institute of Electrical and Electronics Engineers (IEEE) standards for professional project management. Start this course today and begin developing the skills you'll need to excel as a project manager.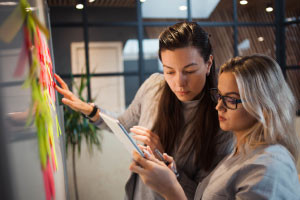 Duration

6-10 Hours

Accreditation

CPD
Description
This course, Introduction to Project Management, will provide you with an understanding of the tools and techniques of project management needed to manage small to medium-sized projects successfully. You will learn about the key reasons for using an Agile project management approach, as well as the most common Agile project management techniques. You will then be introduced to the primary types of certifications that can be earned in the field of project management. You will also learn about who stakeholders are, steps in basic stakeholder management, stakeholder supergroups, and how to handle people who oppose your project.
This course then explains the PMI scope management frameworks, the product scope vs the project scope, what a "requirement" is, types of requirements, and getting quality requirements. You will learn about the work breakdown structure (WBS), what the work breakdown structure is, components of the work breakdown structure, and why to use a work breakdown structure.
This course then wraps up with the scope of change management, the change request form, and action items or issues. You will learn how to use a database to manage change request forms and how to track closure rates. By taking this course you will learn the basics of project management. So why wait? Start learning today and in a few hours you will have gained some valuable project management skills.
Note: PMI, Project Management Institute, and THE PMI TALENT TRIANGLE are registered marks of the Project Management Institute, Inc.
Start Course Now