Introduction to Information Technology for Managers
Learn how information technology can help companies and managers succeed, with this free online course.
Free Course
Effective management and implementation of IT resources have now become routine tasks for many middle and senior managers. This means that a solid understanding of Information Technology is of vital importance for any manager in the modern workplace. This free course will introduce you to the main characteristics and uses of IT systems in the workplace and give your management skills a solid boost in just a few short hours.
Take this certificate on your own.
Start now and learn at your own pace.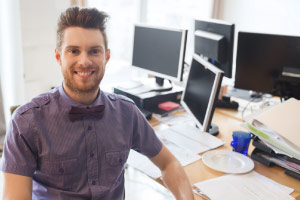 Description
Information Systems are used by managers and employees every day. Systems can improve efficiency and help managers to make informed decisions. This course will first give you an overview of information technology for managers. You will look into the contribution of information technology in the workplace and the challenges that it brings. You will also study the most common types of technology-enabled business organizations and the six major trends and implications of information technology for management.

Information is defined as some tangible or intangible entity that reduces uncertainty about some state or event. This course will discuss the different factors that influence the way in which information is interpreted. You will learn the characteristics of information, the uses of information and knowledge in an organization; and the stages of decision making in business. In addition, you will learn about the main classifications of organizations.

Information technology is constantly changing the structure of business organizations. New forms of technology can mean new customer relationships and new forms of commerce. Upon the completion of this course, you will have a much better understanding of the role of the manager in creating and controlling changes in the workplace via the introduction and proper maintenance of information technology. These are great skills, so check out the course today and start giving your professional abilities a solid boost.
Start Course Now
Need Some Help?
What is information technology?
What are the best free online information technology courses for managers?
How much does an online information technology course for managers cost?