Introduction to Corporate IT Strategy and Business Frameworks
Learn more about the role of IT in the business framework and corporate strategy development with this online course.
Publisher:

Global Text Project
This free online Corporate IT Strategy and Business Frameworks course will introduce you to the importance of IT in the design of business frameworks. IT has become one of the key elements in the design of business frameworks and has a significant influence on corporate strategy. In this course, you will learn all about the different types of tools that help in information systems and the main characteristics of each type of system.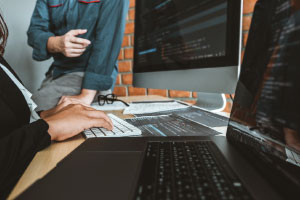 Duration

1.5-3 Hours

Accreditation

CPD
Description
Frameworks are designed around the decision-making activities of the organization and aim to improve the processing of information. This course will first introduce you to the relationships between business frameworks and Information Technology. You will look into the main types of strategy frameworks available to a business model and study the different applications that Information Technology adds to business units. This course will also discuss the three different types of information systems. You will learn that a change in one component of a framework is likely to cause changes in others.
Technology can be used to dramatically restructure organizations and contribute to their flexibility. This course will discuss how Information Technology can help to sustain a modern organization. You will study the differences between formal organizations and informal organizations, the factors that influence the structure and design of modern organizations, the competitive advantage of porter's five forces, and the role of interdependence in an organizational structure. You will also study organizational flexibility, the role of variables in Information Technology, and the importance of Information Technology in determining business strategy frameworks.
The modern manager must have a thorough knowledge of both the structure of their organization and the capabilities of modern technology. This is especially important when designing business frameworks and determining corporate strategies. Upon the completion of this course, you will have learned the importance of IT in the design of business frameworks and the different elements that influence framework design. So, check out this course and discover how to use IT to enhance your organization's corporate strategy, today.
Start Course Now