Understanding Information Control for IT Managers
Learn more about the importance of control in the organization and the impact of globalization.
Publisher:

Global Text Project
This free online information control for IT managers course will help managers understand data control. IT systems gather a huge amount of data over their lifetimes, and managers need to understand how to process and make use of this data, be it for metrics on sales, meeting regulations, intra-business control, or security management. This course will teach you about IT can assist managers in organisational control and complex problem solving.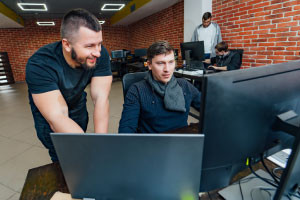 Duration

3-4 Hours

Accreditation

CPD
Description
Control of an organization is one of the most fundamental responsibilities of managers. Managers must create a structure of control which will suit the operations of a firm. Different types of organization may require different levels of control. Technology can also be used to create information systems which can aid control in a firm. Information systems can greatly aid communications in an organization. Information systems also create a major control problem for management, in terms of development, implementation and security. Improved information systems have allowed many firms to expand their operations in the global market, in turn creating more control issues. Firms with extensive outsourcing face problems of control and communications.
In this free online course, the learner will first be introduced to what management control is, then it will discuss what information and control are in respect to business, along with management issues in it and security issues with IT systems.
The course also outlines the impact of globalization on the organizations, and business. After which it will discuss managing information technology internationally and Virtual firms operating internationally.
This free course will be of great interest to management professionals who would like to learn more about the control of information and globalization.
Start Course Now