Introduction to Communication Skills
Learn techniques for improving your conversational skills, including knowing how to really listen and when to speak.
Free Course
Communication is such an important skill. This course will teach you important techniques for knowing how to listen, when to speak, and how to speak clearly and concisely are abilities that can make you more persuasive and enjoyable to talk to. This can greatly enhance your professional and personal life, allowing you to speak more confidently, make new friends, and build business networks. Boost your communication skills today!
Take this certificate on your own.
Start now and learn at your own pace.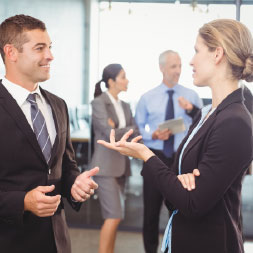 Description
Communication skills open doors. Still, many people lack the ability to speak and listen clearly and effectively. This course will make sure you are not one of them. The course will first introduce you to important concepts such as communication channels, interpretation, and barriers. You will then explore the basics of body language, and the contexts that affect your communications.
The course will then walk you through important techniques for effective listening and concentration. Next, you will take modules about speaking, which will guide you through methods of speaking considerately and politely. The course then goes through the importance of silence within conversation, along with the importance of culture and context.
Everybody has communication needs, so everybody can benefit from better communication. The skill is not only helpful but also rewarding. With strong communication abilities, you will feel much more confident introducing yourself in social and professional situations. This can make life much more enjoyable, and give your career a real boost. For a course that only takes 3 hours, that's a great reward. So why wait?
Start Course Now
h
Need Some Help?
What are communication skills?
What are the best free online communication skills courses?
How much does an online communication skills course cost?