Introduction to C# Programming
Learn to program using Microsoft's Visual Studio Express with this free online Introduction to C# Programming course.
Publisher:

Channel 9
This free online course on C# programming teaches you about the basic features and functions of programming applications in C# using Microsoft's Visual Studio Express. C# is an object-oriented Microsoft basic programming language designed to help web developers improve their productivity in the development of Web applications. This free online course teaches you about programming applications in C# in a clear, succint, and step-by-step manner.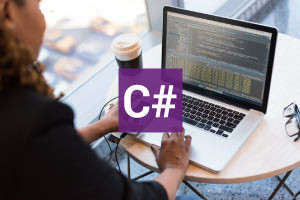 Duration

1.5-3 Hours

Accreditation

CPD
Description
This course will first teach you how to install Visual Studio 2013 Express for Windows Desktop, use the C# programming language, and review the written C# code for errors. You will study the Console Application where you will learn to start writing C# code, the Integrated Development Environment (IDE), as well as the .NET Framework including the services that the software environment Common Language Runtime(CLR) provides. You will also learn how to place C# programming methods inside the Namespace and Class elements.

You will then learn how to put together the Visual C# Express Edition Integrated Development Environment. The course will teach you how to declare variables and assign values in C# and create branches with the if... then...else ... conditional statements. You will learn how to use the Auto Hide icon in windows in Visual Studio Express to hide individual windows and display different sets of windows depending on the context you are working on. You will also look into the functions of keyboard characters and roll-up codes.

C# is a functional and generic object-oriented programming language that can be used to create almost any application. However, it is particularly strong at building Windows desktop applications and games. C# has quickly become one of the most popular coding languages. This course will teach you its features and functions which you will find highly useful when writing codes for your applications. Make sure to take this course and enhance your web development skills today!
Start Course Now