Health and Safety for Caregiving
Learn how to provide pain relief, improve strength, increase range of motion and perform types of physical therapy.
Publisher:

Advance Learning
This free online physical therapy treatments course will teach you the safest and most effective ways of moving and transferring a patient who requires therapy. A physical aide has a very important role to play in caring for a patient, this physical therapy treatments course includes the specialist knowledge and training required to work as a physical therapy aide, and gives you a strong understanding of essential therapeutic exercise techniques.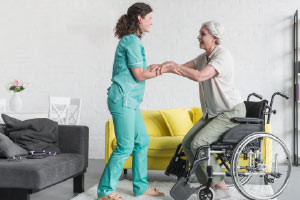 Duration

1.5-3 Hours

Accreditation

CPD
Description
These different types of physical therapist courses will introduce you to the basic structure and function of the human body. You will study the musculoskeletal system, the cardiopulmonary system, the neurological system, the skeletal system, and the muscular system. You will learn about the different types of physical therapy, muscle tissue, common cardiopulmonary pathologies, and the difference between the axial skeleton and the appendicular skeleton. You will also look into different types of physical therapy and range of motion exercises as well as the most common nervous system disorders.
You will then study body mechanics and learn the proper turning and positioning of the patient. The physical therapy treatments course will discuss tips for lifting and methods for transferring. You will also learn what types of patients are at risk for decubitus ulcers which will help you spot problems faster. You will then look into the most commonly used modalities in physical therapy, which includes temperature and sound. You will also learn the benefits of therapeutic exercises.
Lower back pain is one of the most common ailments in patients who seek physical therapy treatments. This course will give you an in-depth understanding of the therapeutic exercises used to treat lower back pain. You will also learn how to apply correct body mechanics to ensure your safety as well as your patient's. So why wait? Take this course today and learn how to start helping patients improve their mobility with physical therapy movement, manage pain and chronic illness, or recover from injury.
Start Course Now