Growth Strategies for Business
Gain a better understanding of growth strategies, international marketing, and product evaluation with this course.
Publisher:

Connexions
High-growth firms are companies with over 30 percent growth in sales or over 20 percent growth in the number of employees in the last three years. This course will introduce you to business growth (which is a function of the business lifecycle), industry growth trends, and owners' desire for equity value creation. You will study international marketing, learn how to add products and services, look into international business, and more.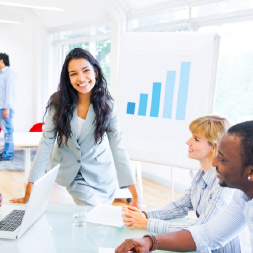 Duration

1.5-3 Hours

Accreditation

CPD
Description
Business growth is a stage where a business reaches the point of expansion and is searching for additional options to generate more profit. This course will first introduce you to the four-phase growth model. You will study different growth strategies as well as look into growth and management mistakes. You will also study the international market, examine the opportunities and problems associated with it, and overview international marketing plans.

Innovation is an idea or product that is new to the sponsoring organization. This course will introduce you to different sources of innovation. You will learn how to add to products and services and study different types of products such as durable goods, non-durable goods, controlled goods, and specialty products, to name a few. You will also look into the different methods of evaluating new products including laboratory tests, expert evaluations, and customer evaluations.

Having worked hard to create a business, many entrepreneurs and businesses find it a struggle to grow their company. Upon the completion of this course, you will have learned different growth strategies to help your business reach its full potential along with the key factors involved in international business. You will also have gained a much stronger understanding of globalization, its effects in developing countries, and Hofstede's Five Cultural Dimensions. Check out this course and learn how to grow your business profitably, today!
Start Course Now