Operating Systems - Understanding Hardware and Software Interrupts
Learn about operating system interrupts and how they are processed with this free computer operating systems course.
Publisher:

NPTEL
This free online course in computer operating systems will teach you about hardware and software interrupts. An interrupt is a signal sent to the processor that interrupts the current process and may be generated by a hardware device or a software program. This course will also teach you about the programmable interrupt controller, CPU context switching, context switch overheads, and the factors affecting context switching time.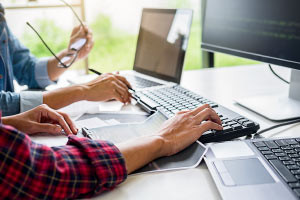 Duration

1.5-3 Hours

Accreditation

CPD
Description
Operating systems are event-driven, which means that the OS only executes when there is an event. This course will start by teaching you the three main types of events. You will then study the Programmable Interrupt Controller(PIC), the Advanced Programmable Interrupt Controller(APIC ), and the Local Advanced Programmable Interrupt controller(LAPIC). You will learn what happens when there is an interrupt and what causes the switching of stacks. You will also study the parts of a typical interrupt handler.
A software interrupt is an instruction in a program which causes an interrupt when executed. It is used primarily for implementing system calls. This course will teach you how a software interrupt happens. You will also learn how a CPU switches between processes and study the direct and indirect factors that affect context switching time. The course will also discuss the three methods used for passing parameters to system calls, which are by Registers, user mode stacks, and designated memory regions.
This Operating Systems - Understanding Hardware and Software Interrupts course is part of a series of courses on computer operating systems. Prior to taking this course, make sure you have studied the 'Introduction to Operating Systems', 'Introduction to Memory Management', and the 'Introduction to Operating Systems Processes'. But if you are ready for this course, check it out today and boost your knowledge of software and hardware interrupts in just a few short hours.
Start Course Now