Fundamentals of Ray Tracing Matrix and Principal Planes in Optical Engineering
Learn all about optical engineering and the fundamentals of the ray tracing matrix and principal planes.
Publisher:

NPTEL
There are various ways in which ray tracing can occur and this free online course in Fundamentals of Ray Tracing Matrix and Principal Planes in optical engineering provides a comprehensive guide on the different techniques of ray tracing. Learn the meaning of principal planes in optical systems, how to calculate principal planes distances in optical systems, as well as the six points of interest in thick and thin lens systems.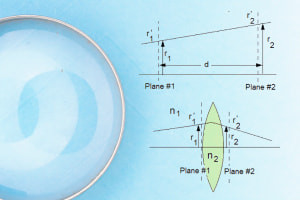 Duration

4-5 Hours

Accreditation

CPD
Description
This in-depth free online course uses the ABCD matrix to teach you about effectively tracing rays through optical pupils and principal planes and begins with a discussion on how the depth of focus of the system is affected by the aperture stop. You will study the chief and marginal rays in optical systems, along with the straight lines at the region of homogeneous refractive index. As you work through this comprehensive engineering content, you will examine the concepts of paraxial approximation, aberration, and numerical aperture in optical systems. 
You will also learn the techniques on how to use matrices to trace elements containing refractive and reflective surfaces, as well as how to cascade various operations using the ray tracing matrix. Some other important topics include studying the concepts of principal planes, effective focal length, the six points of interest in thick and thin lenses and you will also learn how to run an optics software for layout and optimization (OSLO) operation.
Whether you're a researcher or student in the field of optical engineering or if you have an interest in optical systems and how the ray tracing matrix works, then this free online course will teach you all the basics and practical applications you need to further your knowledge. Enrol today and hone your skills in the field of optical engineering.
Start Course Now