Food Safety Knowledge - Basic Level Requirements
Learn how to handle and store your food properly to prevent food-borne illnesses with this Food Safety Knowledge course.
Publisher:

Openstax CNX
If not handled properly, the food that you serve may cause severe discomfort, illness, and even death. This makes it crucial for everyone, particularly those in the hospitality industry, to understand that their behavior directly contributes to the safety of the food they serve. This course will teach you how to properly handle, prepare, and store food so that the meals you make and contribute to are safe for everybody who enjoys them.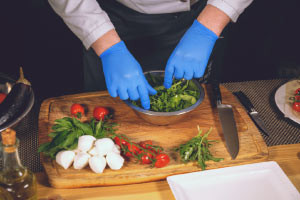 Duration

1.5-3 Hours

Accreditation

CPD
Description
This course is compiled from the Food Safety Knowledge Network's Basic Level Requirements for Food Manufacturers. The practices outlined in the course adhere to internationally recognized standards, codes of practice, and guidelines relating to food, food production, and food safety recognized by the WHO (World Health Organization) and United Nations. The topics covered include personal hygiene, water quality, product contamination control, and pest control. The course will also cover food hazards and incident management.

Upon completion of this course, you will know the important factors that need to be considered when managing personal hygiene. You will understand the requirements needed to ensure water is of good quality and know how to control product contamination that might compromise the health of consumers. The lessons also cover the control and management steps that need to be taken in regard to pest control, prevention, and monitoring. You will also learn about the product quarantine and complaint handling processes that are essential for Incident Management.

If you are a food safety manager or run a business responsible for food safety, you will gain a lot of valuable knowledge from this course. Individuals who are planning to have a career in the food-related industry will also benefit greatly from this course. So, check out the course, start learning how to improve your food handling practices, and make the food you contribute much safer today.
Start Course Now