Firefighting Prevention and Equipment on Board Ships
Learn about precautions taken on board ships and using safety equipment for fire prevention in this free online course.
Publisher:

ADU
'Firefighting Prevention and Equipment on Board Ships' is a free online course that has been specially designed for those interested in firefighting prevention techniques on board ships. The course discusses the prevention of fires using relevant equipment and explores firefighting best practices for smaller vessels. Register for this course today and begin your learning journey!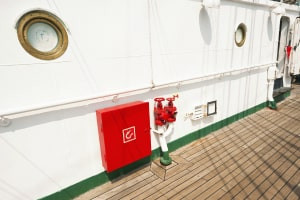 Duration

3-4 Hours

Accreditation

CPD
Description
Fire, though useful to man, is often found to be the cause destruction. However, fire can be safely harnessed and preventative measures can be put in place to avoid hazards. Towards this goal, human development over time has been able to lay down firefighting techniques useful to the prevention of fire outbreaks in different places. This can be observed through the many types of equipment used in preventing the need for firefighting in households and industry. Further, this has been carried on to different modes of transportation including rail, water, air and road. This course seeks to explore the aspects of firefighting related to water transport before, during and after voyages.
Fire on board watercraft is a seafarer's worst nightmare. Towards the goal of fire prevention, it is important to know how to operate a ship safely and maintain a vigil on equipment and machinery during watchstanding. This will help avoid accidental fires that have the potential to end up becoming large fires. Such large fires, when out of control, can burn down the largest of ships to ashes. An important part of crew education is in knowing not only the firefighting equipment and systems on board, but also keeping a clean and well-organized ship. A key characteristic of a well-organized ship includes access to all its physical resources and of course well-secured cargoes. The crew must also understand how a fire can start and grow, as well as what can be done as an immediate measure to extinguish or contain such fires.
This course from Alison discusses firefighting prevention techniques on board ships covering many study levels. It analyzes practical functionalities of different firefighting equipment useful to all maritime stakeholders. Individuals partaking in different recreational activities on the water will need this enlightening course to learn about ensuring their safety when using smaller vessels. Furthermore, learners who successfully complete this course will be conversant with the most common causes of fire involved in all forms of transportation involving passengers and goods. Therefore, students, mariners, health workers, maritime enthusiasts and anyone interested in learning about firefighting tips and useful safety equipment cannot afford to miss this course. Register for this course today to improve your understanding of firefighting prevention and equipment on board ships relevant to overall shipboard safety.
Start Course Now