Shipboard Safety: Training, Drills, and Hazardous Materials
Learn about safety drills and hazardous materials for shipboard safety from this free online course.
Publisher:

ADU
Shipboard Safety: Training, Drills, and Hazardous Materials is a free online course that teaches the value of regular training for handling dangerous situations on board ships. Gain an understanding of the importance of regularly undergoing drills for shipboard hazards. Such training and drills involve relevant stakeholders including crew members and their managers. Register for this course today and improve your safety skills!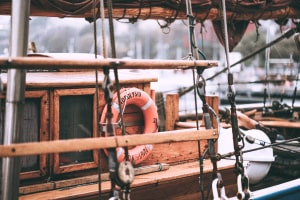 Duration

3-4 Hours

Accreditation

CPD
Description
Most heavy equipment and machinery are bound to be unsafe for diverse reasons. Such reasons hold as well for all types of vessels that undergo sea transport. Ships are particularly vulnerable to human errors, design defects, and weather conditions among other problems that cause accidents. For this reason, shipboard safety largely has to do with preventing the occurrence of accidents related to all heavy equipment, machinery, and various types of vessels at sea. Other dangers ships and crew members are vulnerable to on board ships include fire, poisoning, and rodent infestation. This course seeks to acquaint learners with the relevant training and drills that help reduce the risks of having accidents on board ships before, during, and after voyages. The course also describes different materials that are hazardous in cargo handling and stowage on board ships. Additionally, the course touches on aspects covering all stakeholders that deal with maritime machinery.
Shipboard Safety: Training, Drills, and Hazardous Materials is a free online course that emphasizes the value of regular training for dangerous situations on board ships. The course also provides an understanding of the significance of regularly undergoing drills for such dangerous situations. The training and drills discussed in the course involve all relevant stakeholders that deal with ships including crew members and their managers that are ashore. These drills and training are well examined in this course for their effectiveness in anticipation of complex emergencies. For learners who must have been on board any watercraft carrying cargoes, their observation of stowed hazardous materials must have given rise to such questions taking the form of: "Why is this box kept there?", "Why is that placed differently?" among other questions. This course carefully analyzes these forms of questions covering hazardous materials stowed on board ships for transportation from different parts of the world.
The safety of ships has evolved to what it is today thus improving the overall safety of offshore oil rigs, tugboats, cruise vessels, cargo ships, cranes, shipyards, and ship docks. These machines and areas are known for their complexity in how they are made up and generally operated. That is why operators, handlers, and anyone around them are usually advised to be cautious at all times as a matter of tradition. This course from Alison relates the conventions, laws, regulations, and standards that have made such traditions a norm around ship staff. This course will be an ideal fit for maritime shippers, students, logistic entrepreneurs, researchers, marine operations managers, ship crew, marine engineers, and anyone seeking to learn about training, drills, and hazardous materials relevant to shipboard safety. Register for this free online course today to improve your understanding of important training, drills and hazardous materials related to shipboard safety.
Start Course Now