Shipboard Safety - General Safety and Safe Working Practices
Gain insight into safe working practices and general safety to prevent shipboard hazards with this free online course.
Publisher:

ADU
Shipboard safety is essential at sea to prevent loss and damage. This course on general safety and safe working practices comprehensively evaluates the different hazardous areas in ships carrying cargo, crew and passengers. It provides references to adopted conventions for the general safety of ships against possible hazards that may arise before, during and after ship voyages. Register for this course today and begin learning!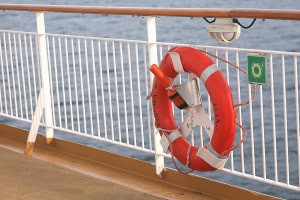 Duration

3-4 Hours

Accreditation

CPD
Description
Shipboard safety must be a priority for everything machine-related onboard. Machines do not understand human error or negligence during operations. Machines are set and will continue operations regardless of the danger they pose to life and property. This essentially holds for all machines on and around ship vessels, making it necessary to understand the safety measures adopted by marine stakeholders. A safety mindset is thus beneficial for all crew members and we analyze the relevant conceptual frameworks to ensure shipboard safety. We deliver a comprehensive understanding of general safety and provide essential practices for working safely on various boats and ships.
This course will help marine professionals discover the most hazardous areas on board ships and gain valuable safety knowledge to avoid possible hazards. We critically analyze case studies conducted by global maritime conventions. These include cases from the highly reputable International Convention for the Safety of Life at Sea (SOLAS) and those conducted by U.S. maritime regulators. We outline some fundamental concepts surrounding novice crew and staff in the maritime sector and provide extensive information on a range of safety activities ship stakeholders undergo to maintain physical safety before, during and after ship voyages across the seas. We explore aspects relating to safety adoptions against fires, hot work and chemical hazards ever-present on board every type of watercraft.
How do you control shipboard dangers? What can you do if you get trapped in a confined space or tank? What are the chances of surviving stormy weather? We investigate these scenarios and enable you to protect yourself, those around you and the conveying ship or vessel from maritime hazards. These include those arising from improper usage of wires, fiber ropes, lifting gears and electrical equipment. The content in this course is crucial for students, logistic entrepreneurs, researchers, marine operations managers, ship crew, marine engineers and anyone seeking to learn about general shipboard safety. Register for this online course today and improve your understanding of general safety and safe working practices on board ships.
Start Course Now