Ship Stowage Handling - General and Deck Cargo
Learn about effective methods for stowage handling of general and deck cargo on board ships in this free online course.
Publisher:

ADU
This course on ship 'Stowage Handling - General and Deck Cargo' offers an in-depth guide to understand the regulations and the strategies for proper handling and stowage of general and deck cargoes. In addition, you will explore multipurpose ships, Ro-Ro operations and the International Maritime Organization's (IMO's) Code of Safe Practice for Ships Carrying Timber Deck Cargoes. Register for this course from Alison today.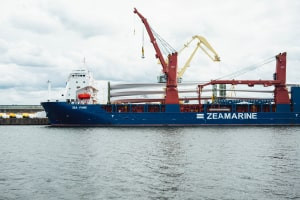 Duration

3-4 Hours

Accreditation

CPD
Description
Proper stowage is of immense importance for the safety of life at sea. You use different stowage methods to transport different types of cargo. Ship cargoes have continuously witnessed an increase in variety due to the acceptance of these methods. This increase in variety resulted in the advent of codes and different techniques for the proper ship handling storage of different types of cargoes. They are set up to prevent cargo damage occurring before, during and after departures from ports of origin, through transit and to their ports of destination. The packaging of random household items like clothes, furniture and machinery of different kinds necessitated general cargo ships to transport them. Such a variety of items require adaptable functions in carrying them because of their peculiarities of being unusual cargo types for maritime shippers. They also need special features, equipment and onboard gears for loading/unloading, only seen on versatile general cargo ships that carry cargo from both big and small ports. This could prove to be impossible for most types of vessels. This course analyzes the need for this specialized cargo ship by explaining general cargo carriage methods and modes for different cargo types alongside deck cargoes.
This course offers an understanding of the procedures, strategies and regulations of stowing general cargoes. You will explore deck cargoes alongside their distinct elements relevant to ship stowage. It also offers a basic understanding of handling general and deck onboard cargo ships for effective sea transport. Study the aspects of general cargoes relevant to their unique characteristics of storage and handling of different onboard cargo types, including available cargo loading, multipurpose ships, Ro-Ro operations and carriage procedures. You will learn all aspects of deck cargo, including the battening down of hatch covers and unobstructed view from navigating the bridge. Investigate the International Maritime Organization (IMO) Code of Safe Practice that regulates the proper carriage, stowage and handling of deck cargoes on board ships. We describe the many measures to be observed in undertaking procedures for ensuring safe maximum possible load carriage on ship decks. We also discuss the importance of providing secure access to essential equipment and spaces on cargo ships.
This course aims to equip you with helpful knowledge of stowage handling of deck cargoes and various types of cargoes onboard general cargo ships. This includes details on the constructional features and the different multipurpose cargo vessels. You will become familiar with available cargo loading, including aspects of carriage and stowage necessary for transporting cargo onboard. You will examine deck cargo's essential aspects and precautions for achieving the maximum permissible cargo load onboard ships. Aspects of general cargo covered in the course will help professionals maintain ships' overall stability throughout a voyage by stowing cargo properly. The course will be of significant interest to students, logistic entrepreneurs, researchers, marine operations managers, marine engineers and anyone seeking to learn about the stowage and handling of general and deck cargoes onboard ships. So enrol today!
Start Course Now