English Grammar - Future (Intermediate level)
Learn how to use the correct English grammar to discuss the future with this free online English grammar course.
Publisher:

Advance Learning
This course teaches how to talk about the future in English. We often discuss our plans and it is crucial for English speakers to understand the proper use of the language's future tense. The course uses examples, exercises and audio clips of native English speakers to help you refine your accent and pronunciation. English is an important global tongue so becoming more fluent can open doors for you in your personal and professional life.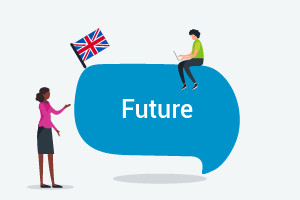 Duration

1.5-3 Hours

Accreditation

CPD
Description
This course teaches you how to use the 'present continuous for future' tense to discuss events that have yet to unfold. We cover the use of the present simple tense to identify scheduled or fixed events in the future. You will learn how to combine 'going' and 'to' while laying out plans. We also teach you how to use 'will' when you ask, promise, agree or offer to do something.
The course then shows you how to use 'shall' instead of 'will' when you are offering a suggestion like, "Shall I make you a cup of coffee?" We explain when to use 'if' instead of 'when' to discuss potential future events (for example: "They may cancel the concert if it's raining."). You will also learn to avoid 'will' when discussing future arrangements.
This intermediate-level course makes it much easier to use the correct grammar to talk about future events and plans in English. Learning how to form the correct future tense of verbs will make your speech flow and widen your conversational options. We employ examples, exercises and audio clips to help you polish your English and its accent to make you more confident as you master this global language.
Start Course Now