English Grammar - Future (Intermediate level)
Learn how to use the correct English grammar for talking about the future with this free online English grammar course.
Publisher:

Advance Learning
This free online English language course teaches how to talk about the Future. Every day, we find ourselves talking about our plans and our future, accordingly, it's really important for English learners to understand the proper use of the English future tense. In this course, you will study the future tense and its different forms with the help of interactive learning content and audio recordings of native English speakers.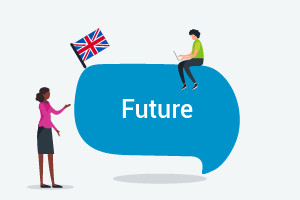 Duration

1.5-3 Hours

Accreditation

CPD
Description
This course will first teach you how to use the Present Continuous for Future to talk about things you plan to do and about to do in the future. The course will cover the Present Simple to talk about scheduled or fixed events in the future. You will learn how to use 'going + to' when you are going to, intend to, or are planning to do something. The course will also teach you how to use "will" when you ask, promise, agree and offer to do something.

You will then learn how to use 'shall' instead of 'will' when you are offering a suggestion such as "Shall I make you a cup of coffee?'. The course will also teach you how to use 'if' instead of 'when' to talk about the future and for things that are less certain to happen such as 'They may cancel the concert if it's raining'. You will also learn that you should not use 'will' to talk about arrangements for the future.

Talking about future events and plans in English using the right English grammar can be much easier if you put effort into learning. This intermediate level English course will teach you how to form the correct future tense of verbs in different forms. This will make your conversations flow much more easily and give you a lot more to talk about the next time you are speaking in English. So why wait? Check out this free course today, and keep moving forward.
Start Course Now