English Course - Narratives (Upper-Intermediate Level)
Learn more about narrative tenses to help you tell stories in English effectively with this free English grammar course.
Publisher:

Advance Learning
This upper-intermediate level English course will teach you how to construct different tenses and narrative verb forms to effectively tell stories. The course will give you a strong overview of the past form of verbs, and will also look at the present and future forms and how they compare with past forms. You will also study the role of collocations in English narratives as well as construct your own narrative using a guide.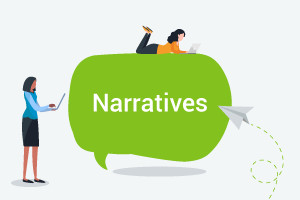 Duration

1.5-3 Hours

Accreditation

CPD
Description
What is a narrative? Narratives are stories that have a beginning, a middle, and an end. This course will first introduce you to useful phrases for telling stories in English such as 'All of a sudden...' and 'After that'. You will study the use of the English past simple, past continuous, past perfect simple, and past perfect continuous tenses when telling stories about the past, as well as when putting stress on something.

The course will then teach you the narrative stages that will help you tell an effective story. You will learn how to use the continuous English verb forms to emphasize an action that is repeated or has lasted a long time. You will also study continuous verb forms which are useful when talking about temporary situations and actions that are in progress at a particular time. You will also learn what collocations are and their uses in narratives.

This upper-intermediate level English course will provide you with a narrative guide that you can use to create a compelling story. It will also help you understand why using the past simple, past perfect, and past continuous form of verbs are useful in narratives. By the end of the course telling stories in English will be much easier for you. This is a fantastic skill, so start the course now and claim that skill by the end of the week!
Start Course Now