Effective Business Communication
Learn the importance and process of effective communication for businesses and individuals with this free online course.
Publisher:

Saylor Academy
There are various approaches and models for effective personal and business communication and in this free online course, you will be introduced to the components and contexts of communication and how to apply them properly. This Effective Business Communication course also covers how to engage practically using different communication mediums, the role communication plays in business and the various forms of communication.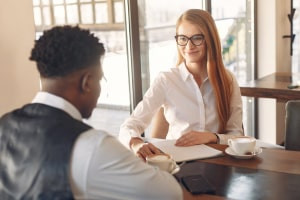 Duration

1.5-3 Hours

Accreditation

CPD
Description
We experience communication in its various forms every day and this free online course explores the science of communication with an introductory module on business communication, where it highlights the importance of communication and the influences that it has on individuals, businesses, thinking and learning. Communication can also be representative of an individual or a business and this is also discussed. You will learn the process of how this critical human skill is acquired as the individual interacts with their environment. The course material goes on to define the concept of communication, dissecting its key terms and discusses the different models where communication is applied in the business space, with practical examples. The base coursework also takes a critical look at the eight essential components of the communications process which are source, receiver, channels, feedback, environment, interference, context, and message.
The content then delves into the different contexts in which communication can exist and critically analyzes intrapersonal and interpersonal forms of communication, as well as group-, public- and mass communication. You will learn about the responsibilities of the communicator while preparing for and during the act of communication, the need for and how to organize the key points of the message and the concept of clarity in communication, its components and considerations. Communication can often be boring, irrelevant and unnecessarily lengthy and this comprehensive course teaches you how to be concise and punctual in message delivery and ensure that it is received at the right time.
Analyze the principles of effectively communicating, the role of ethics as one of the three-part structure proposed by Aristotle in actualizing effective communications and the types of communicators such as the egalitarian, respectful, and trustworthy communicator. The importance of communication in daily life and businesses cannot be overemphasized. Oral and written communication proficiencies are consistently ranked in the top ten desirable skills by employer surveys year after year. Taking up this exciting business communication course will ensure that you are supported with extra learning resources which are aimed at helping individuals develop their communication skills in all situations.
Start Course Now