DNA Delivery and Protein Synthesis
Learn the strategies and approaches involved in DNA delivery and protein production from this online training course
Publisher:

NPTEL
This free online training course will help you to learn comprehensive knowledge of transformation and electroporation in bacterial cells. You will be introduced to DNA delivery in host cells and the procedure for screening recombinant clones. Learn about protein synthesis machinery along with host as production machinery. By the end of the course, you will be familiar with E.coli, yeast, insect cell line and mammalian cells as expression systems.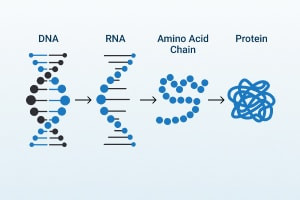 Duration

3-4 Hours

Accreditation

CPD
Description
DNA Delivery and Protein Synthesis is a free online training course that begins with an introduction to the different methods of entry of a recombinant DNA into the host species. You will learn about competent cells, the discovery of transformation, and the mechanism of transformation. You will be able to explain the concept of electroporation. Several strategies utilized to deliver the recombinant DNA into the mammalian expression system or mammalian cells will be made clear. Therefore, you will learn about the advantages of these approaches.
The course then explains the importance of screening recombinant clones as well as the approaches to screen the molecules. You will learn about antibiotic sensitivity, antibiotic resistance genes, and the confirmation of cloned DNA. Next, you will analyze the processes involved in insertional inactivation, blue-white screening, and complementation of mutation.
Furthermore, you will be exposed to the different steps which are involved in a typical protein production machinery. You will learn about the factors to be considered before choosing a host expression vector system. Finally, you will learn about the mammalian expression system alongside protein synthesis in yeast and insect cell lines. This free online course will be of interest to students, researchers, and anyone with an interest in the field of genetics. So, register for this course and start your next learning journey today.
Start Course Now