Diploma in VMware Ultimate Bootcamp vSphere 5.5
Learn about the new vSphere 5.5 product, managing VMs, vCenter server and VM monitoring with this free online course.
Publisher:

Workforce Academy Partnership
Stand out in the IT crowd by taking this free online course on VMware Ultimate Bootcamp vSphere 5.5. We will study virtualization and VMware's product line. You will also learn about the various components of VMware virtualization, the new vSphere 5.5 product, and explore how to manage virtual machines. The course will also show you how to configure networking for VMware vSphere. Sign up today and take your IT career skills to the next level!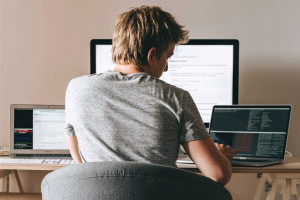 Duration

15-20 Hours

Accreditation

CPD
Description
Are you new to virtualization and VMware's product line? Would you like to keep up with high demands when it comes to storage and processing? Then look no further than this free online course in VMware Ultimate Bootcamp vSphere 5.5. It is an excellent course put together to take you through the storage options available in vSphere. We also highlight the various updates and new features of VMware as a virtualization platform. You will learn about resource manipulation, automated administration using PowerCLI, and VM creation. We will show you how to configure your host to use and manage different types of storage. Learn more about the solid-state disk (SSD), its unique capabilities and its benefits. We will analyze how to optimize the resources in VMware vSphere 5.5, describe vSphere storage API for storage awareness (VASA), create VM storage profiles, and apply VM storage profiles to VMs. This course is designed to augment the recovery capabilities of the vSphere platform by providing a built-in ability to replicate a running virtual machine to another location continually. We'll also teach you about vSphere data protection, its installation process, and other data protection advanced products.
Have you ever wondered how to create multiple virtual machines (VM) and manage VMs or how to configure virtual machines with various virtual disks? This course will take you through all that. You will study how an ESXi virtual machine uses a virtual disk to store its operating system, program files, and other data associated with its activities. Next, we will analyze the various vNIC types and illustrate how to create a VMDK stub file when corrupt or missing. We'll identify the post-conversion steps on how to set new IPs or new vNIC. Are you trying to understand how to make a list of things for planning the upgrade of your virtual machines? This course will take you through how to create and deploy multiple VMs from a template. Understand what vSphere is and how it functions in your virtualization environment to help you keep up with high processing and storage demands. You will learn about VMware converter 5.5 and the four steps for hot cloning in a converter.
Every virtual machine needs a network interface card (vNIC), called Vmware. It essentially is a network interface card that can connect and participate in a network. Do you want to learn about the security model used by vCenter in ESXi, Center, and ESXi permissions and how they work? Then, sign up for this course today! After completing this course, you will know how to use active directory authentication when logging on locally to the ESXi host. Also, you will learn how to join the ESXi host to the active directory. You will also be able to configure the ESXi firewall via the vSphere client. Virtualization products are now an essential part of many companies. This course exposes you to the features of vSphere that make virtualization a great technology, how cost-efficient it is, and the different resources needed in mastering this technology. Upon completion, you will also know how to manipulate all available features in VMware 5.5 to achieve your desired result. This course is perfect for students, IT professionals, researchers, and anyone interested in VMware's product line. Register for this course today and start your next learning journey.
Start Course Now