Diploma in VMware Ultimate Bootcamp vSphere 5
This free online course helps you to work efficiently in real-world troubleshooting and installation of VMware 5.0.
Publisher:

Workforce Academy Partnership
VMware vSphere 5.0 is the industry-leading virtualization technology platform accelerating the shift to cloud computing for existing Data Centers. This free online course discusses the fundamental tools and techniques required to plan, install and administer a VMware environment including Disaster Recovery and Backup. This VMware course will refine your overall skills in administering virtual environments, specifically the VMware vSphere 5.0.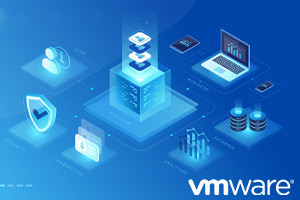 Duration

15-20 Hours

Accreditation

CPD
Description
VMware vSphere 5 Ultimate Bootcamp is a free online course that offers training on advanced virtualization concepts and the VMware vSphere 5 product suite. VMware vSphere 5.0 is the industry-leading virtualization technology platform accelerating the shift to cloud-computing for existing Data Centers. The objective is simple: teach you how to use the platform and perform tasks efficiently and effectively, starting with the installation of the product and then real-world troubleshooting issues. The focus of this VMware training course is to learn and harness the power of VMware and master the entire concept of virtualization. It also analyzes other 3rd party tools as well as technologies that will enhance VMware capabilities and increase your virtualization expertise. This VMware course combines several popular VMware vSphere classes into one accelerated-learning Bootcamp with content and concepts from multiple VMware classes. These range from Install, Configure, Manage, What's New, Manage for Performance, and Troubleshooting. 
The Ultimate Bootcamp maximizes your training experience with learning based on real-world scenarios and throughout the course, you will learn how to use tools to administer the VMware environment. You will also learn about planning the ESXi deployment, deployment guidelines, vSphere Hypervisor installation, Configuring Hostname resolution and NTP, and Troubleshooting ESXi. The final section of this course covers topics like Network Configuration, Configuring Storage, Virtual Machine Creation, Configuration, and Snapshots. The right Network Configuration is essential to supporting the flow of traffic through a network and can also support and enhance network security as well as improve network stability. Some other concepts related to VM Creation are discussed, such as how to create Multiple VMs, Templates & Clones, Virtual Appliances, and VMware Converter. The purpose of Virtual Machine Creation is to provide a platform-independent programming environment and the content then focuses on the basic terminology of the accounts, and access controls and security of Local Linux Systems. Command Line Interface (CLI) tools in a Linux System for basic security access controls, as well as basic files to support user and group accounts is comprehensively addressed and you will finish off by learning about Patching and Upgrading ESXi, Disaster Recovery and Backup and Virtual Machine Monitoring.
This course is designed for System Administrators, Engineers, and Operators responsible for the setup, support, and troubleshooting of ESXi 5 Server and/or vCenter 5. Enrolling for this VMware Ultimate Bootcamp vSphere 5 can level-up your expertise in administering virtual environments from VMware vSphere 5.0 and a whole new world of career prospects.
Start Course Now