Diploma in Power Protection and Switchgear
Learn about the protection of the components of a power system and electrical switch gear in this free online course.
Publisher:

NPTEL
In this free online diploma course, you will learn about the carrier-aided schemes used for the protection of transmission lines and cables as well as the features of auto-reclosing. You will also study the schemes used in protecting transformers, generators, motors, and busbars. The protection of these key components of a power system is imperative, therefore the knowledge acquired in this course will be a crucial addition to your resume.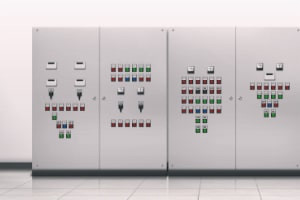 Duration

10-15 Hours

Accreditation

CPD
Description
This free online course will provide you with the knowledge and skills in protecting the key components of a power system network. Some of these components include transmission lines, transformers, generators induction motors, and busbars. Protection of these elements from faults is critical to ensure the stability of the power system network, stable power supply and to prevent damage to the components due to faults in the power system. You will first study the carrier-aided schemes used in the protection of transmission lines. Then the principles of auto-reclosing and synchronizing schemes used for restoring power connection after clearance of faults are discussed. The three types of transmission line protection will be introduced, including current-based schemes, distance relaying schemes, and pilot protection schemes. Moreover, the wire pilot relaying scheme, phase comparison scheme, as well as carrier blocking schemes, will be discussed. You will then learn about carrier-aided transfer tripping schemes under which the underreach transfer tripping scheme and overreach transfer-tripping scheme will be expounded in detail.
Next, you will learn the schemes used in the protection of transformers from the various types of faults. Three types of faults, namely incipient faults, internal faults, and external faults, affect transformers. These types of faults will be explained in detail, along with the power protection schemes that are used to safeguard transformers against them. Then you will study how to protect generators, which are the most expensive components of a power plant. You will learn the different types of protection and how they work. Too, protection against transients and surges will be discussed. You will learn about the sources of transients and surges, as well as the various protection schemes used for these faults. The arc interruption theory will be uncovered, whereby Slepian's Theory and Cassie's Theory will be explained in detail. This will be followed by the theory of arc quenching. Quenching of an arc in an AC circuit requires a mechanism that converts the conduction path across the contacts of a circuit breaker into a non-conducting path, and this will be described in detail.
Finally, you will study the concept of current chopping, then the different types of circuit breakers will be explained to you before concluding the course with the types of tests normally performed on relays, as well as the commissioning and maintenance of relays. Protection of critical components of a power system network is crucial. Thus, this course will be of benefit to professionals in power system networks seeking to refresh or expand their knowledge base, as well as anyone considering a career in the field of power systems protection. Check out the course now and grow your skills and knowledge in power systems protection. Start this course today!
Start Course Now