Create a Cartoon Fishing House in Maya
Hone your 3D modelling and animation skills with Maya by designing a beautiful fishing house in this free online course.
Publisher:

Ivan Yosifov
This free online course trains you to use Autodesk Maya to simply design a fishing house. We take you through the process of building a grey box using key Maya tools and features like 'bevel', 'vertex', 'chamfer' vertices, and 'nCloth'. We show you how to do so in easy steps. This course not only helps you boost your Maya skills but gives you the confidence to explore the world of 3D modeling and design to become an accomplished animator.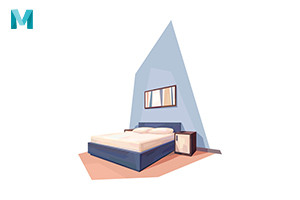 Duration

1.5-3 Hours

Accreditation

CPD
Description
This free online course teaches you the basics of 3D modelling in Autodesk Maya, which is more often known as simply 'Maya' and is a 3D visual effect, animation and graphic design program. This leading software is used worldwide to design stunning 3D graphics and animation effects. We show you how to do so in easy steps with little technical jargon. Simple video tutorials help you understand the basic techniques of designing 3D models. We provide a hands-on understanding of the program, including its primary tools and user interface.
We walk you through the creative process from planning and creating the grey box (the basic shape of the model) to building the fishing house itself. We guide you through various Maya tools and features to create the floors and walls of your structure. We then explain how to design and make the structures and assets more distinctive by applying specific tools like 'bevel', 'vertex' and others while demonstrating the use of specific features like 'nCloth' and 'chamfer' vertices.
If you work mostly in two dimensions, then this course is a perfect fit as it improves your design skills and helps you master 3D-modelling technology through step-by-step tutorials. These skills can boost your creativity and performance as a designer. By completing this simple fishing house in class, you can master Maya and take your place as an artist and professional animator.
Start Course Now