Animation 101: Learning the Basics in Toon Boom Harmony
Gain a greater understanding of the basic principles of animation using Toon Boom Harmony in this free online course.
Publisher:

Diane Shaher
In this practical course on the basics of animation in Toon Boom Harmony, you will be focusing on the 'Bouncing Ball' project. One of the most important exercises that animators first learn, this will teach you about time and spacing, squash, stretch and, most importantly, art. These principles are crucial in the process to bring animations to life. No prior knowledge of animation is required to start this course so enrol now!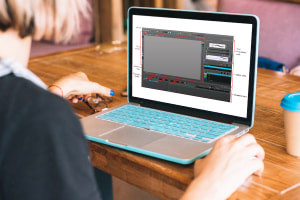 Duration

1.5-3 Hours

Accreditation

CPD
Description
Are you interested in exploring the field of animation? Looking for a good place to start? This course introduces you to the fundamentals of animation using a hands-on, demonstrative approach. You will be taught to use Toon Boom Harmony, a program that allows animators to create art and 2-D animated designs. The course is built around the 'Bouncing Ball' animation project, which consists of a simple basketball (circle) bouncing in and out of the frame. A great starting point for beginner animators, this project helps demonstrate time, spacing, squash, stretch and art. 
Beginning with setting up the project in the program, you will be guided through the steps to follow when creating a new file or scene. You will also learn how to extend the exposure of the horizon and path of action to the end of the timeline. Then you will be taught how to draw the basketball and paste it into different frames as well as how to rotate the program view to stretch the ball. Next, gain insight into the technique for animating the second arc of the bouncing ball and learn how the ball should look or be stretched after impact on the ground and during its peak. Lastly, finishing the last bounce of the ball and adding empty frames to the end of the timeline to clearly show the ball has left the frame will round off the animation.
Toward the conclusion of the course, you will learn how to export your project from Toon Boom Harmony to a 'movie' format. From setup to export, each stage in the process is carefully broken down and explained to your understanding. If you are a beginner animator or want to learn about 2-D animation, this course is designed to help you get started. No prior knowledge of animation or any programming is required. So are you ready to begin your journey? Register today and enjoy learning the basics of 2-D animation.
Start Course Now