Configuration and Monitoring of VMware vSphere 6.0
Learn about the configuration processes as well as the monitoring of VMware vSphere 6.0 from this free online course.
Publisher:

Workforce Academy Partnership
This course on the configuration and monitoring of VMware vSphere 6.0 gives you a comprehensive guide on the processes involved in the creation of virtual machines and the configuration of VM hardware. Learn how to integrate the ESXi Active Directory (AD) and the functions of the distributed resource scheduler (DRS) cluster in VMware. Start this course now and enhance your VMware 6.0 configuration knowledge today.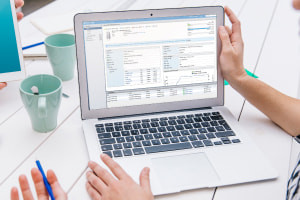 Duration

5-6 Hours

Accreditation

CPD
Description
This course introduces you to the processes of creating virtual machines as well as the configuration of VM hardware in vSphere 6.0. You will learn about the functions of the VM properties via vSphere Web Client along with the functionality of the Virtual Machine Remote Console (VMRC) as well as that of the distributed resource scheduler (DRS) cluster. You will also see how to deploy a virtual machine from existing templates and the processes involved in the customization of operating systems. This course teaches you about the deployment of virtual appliances which helps in eliminating problems of installation in VMware as well as how to obtain ESXi host permissions and how to export virtual machines to open virtualization format (OVF).
Ever wondered how pre-conversion is carried out in the configuration of VMware vCenter Converter? This course explains the pre-conversion process in the configuration of vCenter Converter as well as how to automatically start up and shut down. This course analyzes the differences between virtual machines and physical hardware, the different types of storage reports that can be collected and how these storage reports can be exported using .csv files. You will then learn how to set up the ESXi account security configuration and how to detect advanced vMotion errors during the configuration process. This course then explains the purpose of setting up ESXi firewalls in a virtual machine, the functions of TCP and UDP ports in ESXi firewalls, as well as how to manage data encryption for security purposes.
Finally, you are exposed to the functions of snapshots in virtual machines. Get to know about the installation process of the ESXi standalone patch. You will also get to learn about the new updates made to the vSphere Replication (VR) version 6.0. This course is targeted at students, researchers, IT enthusiasts and professionals as well as anyone interested in VMware configuration. Begin this course today and improve your VMware vSphere 6.0 configuration knowledge.
Start Course Now