Basics of Meteorology
Study the basics of meteorology, natural hazards, climate change and mitigation strategies in this free online course.
Publisher:

John Academy
Meteorology is essential in everyday life as people must make informed decisions regarding clothing and when to plant crops or travel. This free online course begins by examining the historical context of meteorology and investigates the formation and various types of clouds and precipitation processes. Delve deeper into the characteristics of the solar system, global warming and climate change and review their impact on our environment.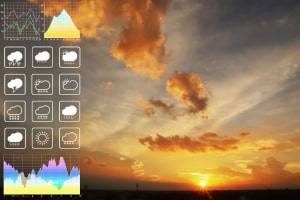 Duration

3-4 Hours

Accreditation

CPD
Description
Meteorologists must give accurate information to people about the potential effects of weather, climate and natural hazards. This course explores the many aspects of weather and climate, such as temperature, humidity and wind to predict specific outcomes and patterns and make informed decisions. Learn about the cloud types, precipitation and their process of formation to have a clear understanding of the essential role they play.
Next, you will study the features of the solar system, which will give you a clear understanding of its makeup and distribution. Then discover some interesting facts about the solar system and examine the causes of climate change, the greenhouse effect and the impact of ozone on our planet. Also learn more about the consequences of global warming and the strategies you can personally adopt to reduce the risk.
Industries like agriculture, shipping and air travel require weather forecasts to plan operations and take precautions against harsh weather. There is no question that the demand for highly qualified meteorologists is more necessary than ever before. By completing this course, you will acquire sufficient knowledge of the causes of extreme weather conditions. You will also have a solid foundation to start an exciting meteorological career. Take this course today!
Start Course Now