Basic Chemistry - Particles, Acids and Separation Techniques
Learn about the basic principles and concepts of chemistry with this free online course.
Publisher:

XSIQ
This free online course will give you a strong overview of the basics of chemistry. Science is one of the oldest and most important academic disciplines in the world and allows us to gain a better knowledge of the world around us. This course will guide you through the main aspects of chemistry, from the periodic table to chemical bonds, atoms, molecules and the pH scale. So don't delay, start broadening your scientific knowledge today!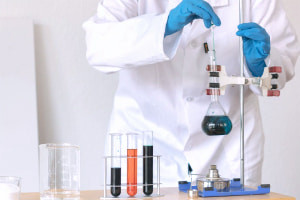 Duration

1.5-3 Hours

Accreditation

CPD
Description
This free online chemistry course starts off with the periodic table. You will explore the various groups on the table and what they mean. You will also learn how to use chemical symbols for elements to present information clearly and concisely. The course then moves on to discuss atoms and molecules, examining how molecules are made as well as how to classify elements and compounds. You will also look at the basic principles of writing out chemical formulae.
You will then study both ionic and covalent chemical bonding and explore how chemical reactions happen. The course then moves on to talk about ions and measuring the valence of atoms. You will learn about the three states of matter and kinetic theory before moving on to learn about the pH scale and the ways in which substances can be tested to check if they are acid, alkali or neutral.
Finally, you will learn about various separation techniques, from decanting and dissolving to evaporation and distillation. This course covers all you need to know to gain a firm grasp of the basic building blocks of chemistry and gives you the confidence and knowledge to move onto learning more advanced topics as you discover more and more about the world around us. So make sure you start your learning journey today.
Start Course Now