An Introduction to the Chemical Synthesis of Proteins
In this free online course, you will learn about the synthesis and sequencing of protein molecules.
Publisher:

NPTEL
This free online course examines the fascinating mechanism of protein synthesis in the cytoplasm of eukaryotic cells, in two distinct steps: Transcription and Translation. You will study the involvement of different biomolecules in these steps, such as mRNA, tRNA and ribosomes. You will also learn about the sequencing of the proteins using various methods, such as Sanger's Method, Edman Degradation Method and Chromatography.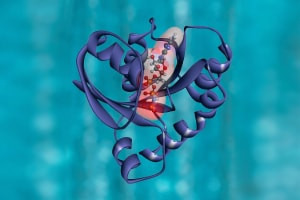 Duration

4-5 Hours

Accreditation

CPD
Description
This free online course describes in detail how the genetic information stored in the DNA is transferred to synthesize a protein of a predetermined sequence through two distinct processes. You will see how information of DNA is carried out of the nucleus, in order to synthesize the required protein in the cytoplasm of the cell. You will also learn about Ribosomes, where the polypeptides are actually synthesized in a cell.
Next, you will learn about the mechanism of synthesis of polypeptides, and the role of codons and anticodons in the process. The second part of the course introduces the concept of the sequencing of proteins or peptides and describes the popular techniques used to determine the sequences of the proteins. Finally, you will learn about the importance of the study of proteins in chemical biology and the application of protein synthesis and sequencing in therapeutics.
This is a video-based course presented by a renowned teacher of biochemistry and will be immensely useful to anyone who wishes to pursue a career in chemistry, biochemistry, medicine or pharmaceuticals. The course provides valuable insights into historical as well as modern trends in biochemical research and laboratory techniques. Why wait? Start today and enhance your knowledge of synthesis of proteins and peptides.
Start Course Now