Advanced Diploma in Machining and Machining Fluids
In this free online Machining and Machining Fluids course, learn about the various machining processes and their physics
Publisher:

NPTEL
This free online Machining and Machining Fluids course provides an overview regarding the fundamentals of the various machining processes. The course is designed systematically to help you understand the importance of machining, tool signatures, tool life, multipoint machining processes, cutting fluid, cutting fluid emissions and its effect on human kind. This course will provide the essential tools required to study the process of machining.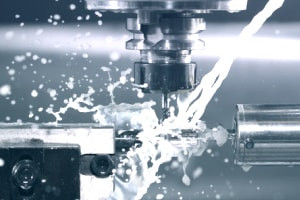 Duration

20-30 Hours

Accreditation

CPD
Description
This free online course introduces you to the importance of machining and machining fluids and includes the principles of metal cutting, cutting tools and cutting forces. This course also provides insights into tribology and surface roughness in machining. This course is arranged systematically and presented clearly so you will easily be able to understand the given concepts.
The second part of the course gives emphasis to topics such as tool wear and tool life, cutting fluids, rheology and thermal characterization of machining. The bio-degradation studies of machining and the cutting fluid application in the machining region are important areas that are covered, as well as the practical and multipoint machining processes. The course then goes on to explain the various abrasive machining processes such as grinding, and the cutting fluids in the grinding process. Unbonded conventional abrasive processes and machining of advanced materials are discussed. This process comes under the Subtractive Manufacturing Processes, where material is removed.
Finally, the course gives emphasis on cutting fluid emissions and its effect on operators, the environment and water pollution. The development of sustainable cutting fluids application techniques are mentioned, which helps to improve machining performance. Upon completion of this course, you will learn how to develop the eco-friendly cutting fluids as an alternative to commercial miner oils. The Machining and Machining Fluids course is a basic, but informative course and will interest mechanical undergraduate students or those who have an interest in these topics. So, sign up for this course and start learning today!
Start Course Now