Adobe Dreamweaver CC
Learn how to create your own website using Adobe Dreamweaver CC in this free online web development course.
Publisher:

SimonSezIT
This training course teaches you how to use Adobe Dreamweaver CC to build websites on Mac and Windows operating systems. The program uses a user-friendly drag-and-drop interface and an HTML and CSS development environment. We show you how to create a new workspace, customize tools, work with text and insert and edit different types of images. Sign up to boost your web design skills and learn web development.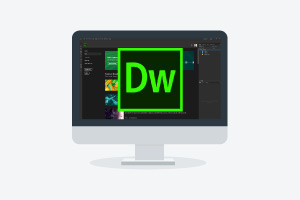 Duration

5-6 Hours

Accreditation

CPD
Description
This course teaches you how to use Adobe's Dreamweaver CC program to create and host websites online while styling your virtual space and inserting images and cascading style sheets (CSS). We explain how to acquire and install Dreamweaver CC and take you through its basic interface to create a basic hypertext markup language (HTML) page and access the help menu. In the second module, you will learn how to create a website and publish it online, format your site's content with HTML code and add hyperlinks.
The course then demonstrates how to customize and edit your webpage's properties and examines the basics of CSS to help you make your site more interactive. We then go through panels on pages to show you how to preview your website in different web browsers. You will learn to add and format text, check available styles and use special characters using HTML. We also explain how lists work in HTML and Dreamweaver.
Lastly, the course takes you through the fundamentals of CSS and explains how to access and use Dreamweavers CSS 'Designer' panel to create an external CSS style sheet and use it in your set. We then demonstrate how to insert images and edit them along with background site images. Sign up today to learn web development and create innovative and eye-catching websites.
Start Course Now