Use Arduino without Internet to Control all your Electronic Devices
In this free online course, learn about the hardware involved in Controlling Electronic Devices using Arduino Wirelessly
Publisher:

Ashraf Said AlMadhoun
Master the art of controlling anything anywhere without the internet using Arduino in this free online course. You will be taught how to use Arduino and a Dual Tone-Multi Frequency (DTMF) module to control different devices remotely without using the internet. It will be clarified why DTMF is a better and a more essential option when compared to GSM. Augment your Arduino wireless controller knowledge and skills by studying this engaging course.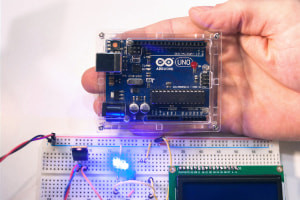 Duration

1.5-3 Hours

Accreditation

CPD
Description
Are you interested in learning how to control anything wirelessly without using an internet connection with Arduino? This course will teach you how to use Arduino and a Dual Tone-Multi Frequency (DTMF) module to control anything that comes into your mind without the need for an internet connection. The Dual Tone-Multi Frequency (DTMF) gives the Arduino superpower and allows you to control different types of devices in industrial and home applications. You will be able to control a device in a different location using your cellphone and another simple phone that will have the auto-response feature enabled to read the instructions you will be sending. This ability is a valuable method of wirelessly controlling devices from a distant location. It eliminates the barriers that are often caused by inadequate or non-existent internet connections in remote areas.
Firstly, the course will introduce you to the definition of Dual Tone-Multifrequency, a technology that is the basis of the modern telephone system. When you press the keypad buttons of a phone, a connection generates two tones simultaneously. These two tones are used by the equipment you will be controlling to identify the pressed key. The ability to identify these keys will enable you to set up different functions that you want your remote equipment to perform from any location. The essential component in your project will be the integrated Dual Tone-Multi Frequency decoder, whose role is to receive the incoming DTMF data and then converts it into respective 4-bit binary-coded decimal numbers. The binary-coded decimal numbers are the ones you use to identify the keys pressed on the phone's dialling pad.
Discover that the IC that you will use is the CM8870, a complete DTMF receiver that integrates the band split filter and the decoder functions into a single dual-in-packet chip. Which frequencies do you generate when you press the different keys on the phone's dialling pad? This course clarifies that using a DTMF keypad to control equipment remotely means that the tones generated can identify what unit you want to control and the unique function you want it to perform. You will explore how you can use the time machine to fix any issues you might have in your sketch from previous design steps. Finally, you will study how to create standing points for the case, creating a sketch for Arduino Mega, 3D animation, and running Fusion 360. This course will interest Programmers or learners passionate about learning about designing long-distance wireless controllers. Why delay! Begin this course today and learn how to design your first Arduino wireless controller.
Start Course Now