Diploma in Solar Energy Engineering
In this free online course, you will learn about solar energy harnessing, Solar photovoltaics and solar installations.
Publisher:

NPTEL
In this free online course, you will learn how to design solar photovoltaic systems for the conversion of solar energy into useful electrical energy. This includes both standalone and grid-connected systems. You will also learn all about solar radiation and its geometry in order to be able to extract the maximum energy out of the solar radiation at a given location. In the process, you will also learn about solar thermal devices.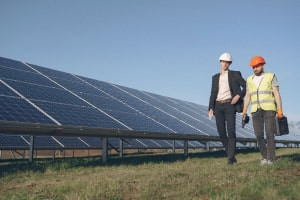 Duration

10-15 Hours

Accreditation

CPD
Description
This free online course introduces you to the field of Solar Energy Engineering and reveals some of the basic techniques and measures adopted by solar scientists and engineers to gauge and capture solar radiation. You will begin by exploring the need and importance of renewable energy sources in today's world and the global focus on solar energy. You will then learn about the nature of solar radiation, how it reaches the earth and the different ways in which it can be utilized. This includes the employment of different instruments and devices for capturing and storing solar radiation, both in the thermal and electrical form. While you gain a basic understanding of how solar PV generators and Solar power plants work, you will see how solar equipment designers predict and estimate the amount of solar energy available and the challenges they face. You will learn about the empirical equations and correlations that relate the values of radiation, global or diffused, with meteorological parameters like sunshine hours, cloud cover, and precipitations. Several numerical examples throughout the course will give you ample practice in calculations related to real-life problems and scenarios encountered by Solar Energy Engineers.
As you progress through the course, you will appreciate the need for estimating and predicting the availability of solar radiation, not only in the different parts of the earth but also in extraterrestrial regions. You will also learn about designing photovoltaic systems, both standalone and grid-connected, for the conversion of solar energy into electricity. This includes the construction of PV cells and their manufacturing process, specifications of solar modules, arrays, their application, and working principles of solar cells. To understand how solar cells work, you will dive into the fascinating field of semiconductor physics. You will also learn about the electrical parameters and components of solar PV systems. Like all systems, PV conversion has its own difficulties and challenges. You will be introduced to difficulties such as cell mismatch, the effect of shadows, maximization of Solar PV output, and load matching. You will be shown certain solutions to these challenges, such as mechanical and electrical tracking and bypass diodes. Finally, you will learn the steps in the design process of standalone and grid-connected PV systems and their performance analysis.
This course can be taken by anyone with a basic knowledge of physics who understands the fundamentals of light, electricity and thermodynamics. By taking this course, you will be able to gauge your interest in the fascinating subject of energy, and effectively prepare yourself for a more, in-depth study of Solar Energy Engineering and Technology. As the energy demand is spiralling across the world and the need to get the maximum out of Solar energy is becoming increasingly important, the role of energy engineers and technologists are also gaining in importance. Building a career in the field of energy engineering or a related field can be extremely rewarding in the near future. Due to the current emphasis on sustainability practices, architects and town planners are also required to incorporate solar energy devices in all their designs and planning of green buildings and environments. Therefore, this course will also be useful to you should you wish to pursue a career in environmental studies, architecture or planning. So, why wait any longer? Begin this course today and start your journey to a bright future.
Start Course Now