Arduino and Programming in Internet of Things
Learn about Arduino programming in Internet of Things (IoT), Raspberry Pi and Python with this free online course.
Publisher:

NPTEL
The Internet of Things (IoT) is a field of study that covers physical objects that have sensors, processing ability, software and other technologies that connect and exchange data with other such devices over the internet or other communication networks. Arduino is an open-source electronics platform that is based on easy-to-use hardware and software. This programming course introduces you to the basics of Arduino and explains how to use Python.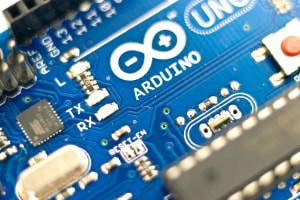 Duration

5-6 Hours

Accreditation

CPD
Description
This course shows you how to use the programming language Python and explains its role in embedded systems application development. Embedded software applications are specialized programs running on non-personal computer devices (for example, as part of a microchip or another application that sits on top of the chip to control specific functions of a device). We teach you about Python's integrated development environment (IDE), its data types and basic control statements. The IDE is a coding tool that allows you to easily write, test and debug your code.
The course covers remote data logging and the Raspberry Pi interface. The Raspberry Pi is a low cost computer the size of a credit card that plugs into a conventional computer monitor and uses a standard keyboard and mouse. It lets people of all ages explore computing while they learn Python.
Finally, you will learn how to capture data from sensors. We explain how to use Arduino to integrate sensors and actuators and examine the sensor's interface with Arduino to help you understand various types of sensors and the distributed hash table (DHT) sensor library. Sign up for this training course to learn how to use basic Python and Arduino programming language commands and integrate with the Internet of Things (IoT).
Start Course Now