Traditional Irish Guitar | Beginner 1
Learn the basics of Irish guitar playing, from tuning to accompanying reels and hornpipes, in this free online course.
Publisher:

World Music Project (Alison)
Discover how to play one of the most popular instruments in Irish folk and traditional music culture with these free online beginner guitar lessons. Our tutor, professional musician Michael McCague, will teach you how to play basic chords using the Drop D tuning system that gives Irish guitar music its rich, open sound. After this 10-part course, you will have learned a reel and a hornpipe and be equipped, with practice, to accompany many tunes.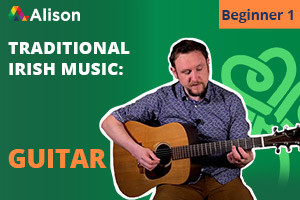 Duration

1.5-3 Hours

Accreditation

CPD
Description
This free online Irish guitar course has been created to help the beginner develop the skills needed to play one of the staple instruments of many folk traditions. In Irish music, the guitar may take a back seat to other instruments, but it adds depth and rhythm to any tune. In this course, highly regarded musician Michael McCague covers the basics that any beginner guitar player needs to know. These lessons will also appeal to anyone interested in learning how to play using Drop D tuning, which is popular in both Irish and rock music for the rich sound it provides. Through a series of interactive videos, with accompanying notes, Michael will introduce you to the basic techniques needed to play the most commonly used chords, along with some tunes.
The course begins with the basics of identifying and tuning the strings, holding the plectrum and strumming the guitar correctly, before Michael begins teaching you the chords, beginning with D major. He devotes separate lessons to teaching you G major, a number of A chords and B minor, all elements of the key of D. Michael encourages learners to practise moving between chords to build up their technique and speed. There are useful notes provided in a downloadable PDF from the resource section of the course. Once you are comfortable playing those fundamental chords, it's time to master your first tune and the guitar lessons proceed to a reel, 'The Maid Behind The Bar'. Fiddle player and TG4 presenter Doireann Ní Ghlacáin plays the tune with Michael teaching the accompaniment over the course of two lessons. The final tune you will learn in this beginners' course is the hornpipe 'Kitty's Wedding' and again, Doireann plays the melody for you to accompany.
If you want to be able to play one of music's most accessible and enjoyable instruments, you are learning from one of the best in this free online guitar guide. Michael McCague is a gifted songwriter and multi-instrumentalist from County Monaghan, in the rural heart of Ireland. From a musically gifted family, Michael played the tin whistle and fiddle before taking up the bouzouki and then guitar. Apart from being a member of bands like At The Racket and Téada, Michael has accompanied legendary flute player Matt Molloy live. He has featured on a number of recordings and his self-penned debut album, 'The Waylaid Man', was well-reviewed and featured performances by top musicians including John McSherry and Nollaig Casey. He often performs with his brothers, Donal, Sean and Connor, with fiddle player Donal being a former Young Irish Musician of the Year. Michael now lives in Galway, on the west coast of the country, the home of traditional Irish culture. By completing this course, you can learn the skills you need to develop as a guitar player. You can also gain certification by passing the end-of-course assessment. You may wish to progress to the next course in this series, Traditional Irish Guitar, Beginner 2, where you will learn new chords and tunes. The series concludes with Traditional Irish Guitar, Intermediate, for those who have mastered the basics. If you would like to be able to play along to songs from any genre or are keen to explore Drop D tuning, this course provides the perfect starting point. All that's required is an acoustic guitar, a willingness to practise and you're ready to begin!
Start Course Now