This free online bodhrán course is designed for those who are competent at playing the traditional Irish drum. Learn new rhythms while improving your technique in this 8 part course led by one of Ireland's top bodhrán players, Dermot Sheedy. He teaches new jig and reel rhythms as well as methods for adding colour such as palm heel beats. TV presenter Doireann Ní Ghlacáin assists on fiddle on this self-paced sequel to our Beginner 1 and 2 courses.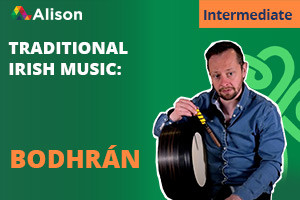 Duration

1.5-3 Hours

Accreditation

CPD
Description
Master those rhythms and techniques that elevate traditional Irish music and give it such vibrancy with this free online Irish bodhrán course. Through a series of eight video lessons, virtuoso bodhrán player Dermot Sheedy shares the skills and insights he has garnered over decades of drumming. The lessons are designed to help the learner develop those skills that make authentic Irish bodhrán playing so infectious. The course is ideally suited to students who have completed our Beginner 1 and Beginner 2 courses though any competent drummer or bodhrán player will take something away from these lessons. The course majors on jigs and a new, swinging reel rhythm and TG4's live music presenter Doireann Ní Ghlacáin provides the melody on fiddle where required.
Following an introduction to the course in which Dermot describes the level of playing participants should have attained, he starts with a jig rhythm which he hasn't taught in the previous two courses which has added swing to it. He teaches the rhythm, together with tricks for enhancing it such as single-ended rolls and rundowns. The next lessons focus on further enhancing your playing by using palm heel beats. These vary the tone of your playing and you can use them to bend the notes as well as move the beat all around the drum for added interest. You will learn how to incorporate your new techniques into your jig playing, through accompanying Doireann on fiddle. Once jigs have been well covered, the lessons move onto a new reel rhythm, also with added swing. This rhythm is found across the world and it's one Dermot Sheedy favours over the reel motor rhythm. You will learn techniques for enhancing the rhythm and again put those into practise by accompanying Doireann playing the melody. The course concludes with a useful recap of everything you have learned.
For anyone who is relatively proficient in the bodhrán and wants to enhance their playing for an authentic traditional Irish sound, this free online bodhrán course provides the perfect training. Your tutor, Dermot Sheedy, is an all-Ireland champion bodhrán player and professional drummer from County Clare in the west of Ireland. Dermot took up the bodhrán at the age of 5 years, having been inspired by the playing of world bodhrán champion Neil Lyons at a festival in Listowel. He grew up practising along with his sisters who played flute and fiddle. He went on to compete at many fleadhs or Irish music festivals, winning many national titles in the process. As a professional musician, Dermot is best known as the drummer with the well-known band Hermitage Green, with whom he has toured the USA and Canada, Australia and the UK. He has also accompanied artists such as Donal Lunny, The Irish Harp Orchestra and Celtic Legends. In this course, he shares special skills and techniques that will help you to develop as a bodhrán player. With practise, this course will help you add dynamics and tone to your bodhrán playing and give you the confidence to accompany a wide range of tunes. You can also gain certification by passing the end-of-course assessment. If you are keen to master the secrets of professional-sounding bodhrán accompaniment, this is the course for you!
Start Course Now