Supply Chain Management and Capacity Planning
Learn the Central Principles and Practices of Supply Chain Management and Capacity Planning.
Publisher:

Saylor Academy
This free online certificate course in Supply Chain Management and Capacity Planning will help you understand the importance and role of Supply Chain Management in the procurement of raw materials and distribution of finished goods to customers. Learn how capacity planning can help you forecast demand and help you meet them in a timely manner.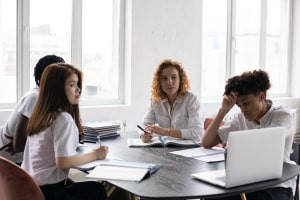 Duration

1.5-3 Hours

Accreditation

CPD
Description
Every organization that is involved in manufacturing operations need raw goods for the production process and the aim of the production is to get these finished products to the intended customers who will in turn pay money for the products. It is by this means that organizations generate revenue and make profit. Supply chain management refers to the entire process of obtaining the raw goods from a supplier, converting those goods into products, shipping products, and placing them in front of customers. Many of the problems associated with supply chain management are closely related to the typical problems of operations management. Instead of the question: "How should we make this?", it becomes: "How should we get this from point A to B?" It may be best to ship the product straight from the factory to the customer, but it may be prohibitively expensive to do so. Many firms find it easier and cheaper to ship products to distribution warehouses first and distribute to customers on a more local level. Capacity planning helps the organization to design their production plants in a way that will produce goods which will be just sufficient to satisfy the market demand.

This course begins by defining Supply Chain Management and explaining the importance of Supply Chain Management in the production and distribution process. The course goes further to explain how to eliminate wastages during the production process by using supply chain management techniques which will ensure that only what is needed at a time is made available. Thereafter, the course goes on to explain how to plan capacity and facility layout in order to ensure the production process is just sufficient enough to match the market demand of the product being produced. It explains the importance of forecasting demand when setting up a production facility so that customer's demand is matched and there are no wastages. This course discusses the several methods of forecasting demand and explains how demand can be forecasted to attain high accuracy. Since forecasts are educated guesses, it is very important to get information from reliable sources which will help gear the forecasts towards high accuracy. This course helps to explain the various sources of information that will be helpful when making demand forecasts.

This free online certificate course is designed to help you understand how to manage your supply chain and plan capacity. By learning the important role of Supply Chain Management and capacity planning, you will be able to eliminate waste in your organisation and at the same time, match the demand of your customers. Whether you're an entrepreneur or a staff in a production facility, this course is designed to help you gain all the knowledge you will need to excel. This course is also very useful in the day-to-day living as we all make decisions in our homes on what to purchase and in what quantity, this course will help you make the right decision. So jump in here now and gain this much needed knowledge.
Start Course Now