Statistics: Effectively Displaying Data
Free online course - A picture is worth a thousand words! Learn about the methods used to display data effectively.
Publisher:

ADU
With this free online course, master the uses of graphical representation as an attractive method to describe and represent data. Graphs and pictures allow you to see at a quick glance the relationships between the data. Learn how to interpret various data graphs, how to select the appropriate graphing method when given data, and how to construct it.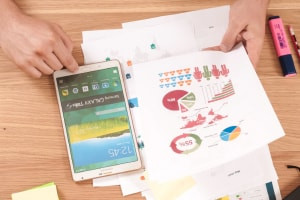 Duration

1.5-3 Hours

Accreditation

CPD
Description
Graphical representation is the most attractive method of describing and representing data. It allows a person to see at a quick glance the relationships between the data. Students will learn why particular graphs are more effective than others in conveying information, how to organize data and how to construct the appropriate visual representation.
This course focuses on interpreting and constructing the following basic types of graphs: bar and Pareto graphs, dot-frequency graphs, line graphs, picture or pictographs, circle or pie graphs, stem-leaf plots, and box-whisker plots.
Finally, you will explore histograms and cumulative frequency histograms. The corresponding cumulative frequency polygons will also be presented as they can be used to determine and describe the data percentiles and quartiles giving the student more detailed information about the data.
This course would be of great to those interested in studying data science and statistics or those looking to start a career in the data industry. Or, perhaps you just want to be a more savvy reader when looking at the financial section of your paper!
Start Course Now