Solidworks: An introduction to the 3D editor
This free online 3D editor course will teach you how to use Solidworks for your 3D engineering drawings.
Publisher:

Joseph Larsen
This free online Solidworks course will give you an introduction to Solidworks CAD software. Solidworks is a Computer-Aided Design (CAD) and a Computer-Aided Engineering (CAE) application used to create Solid models. It helps users sketch 2D drawings using geometry and create 3D models for any part or assembly. With this course, you will learn how the versatile 3D printing models, designs, and CAD files can improve your designs.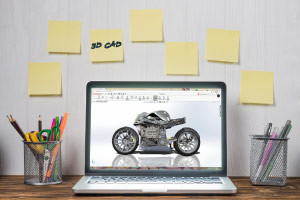 Duration

3-4 Hours

Accreditation

CPD
Description
This free online course will first introduce you to the SolidWorks editing application. You will learn how to navigate the home screen and the options available along with an introduction to the settings you can use to personalize your interface. You will study the types of relationships that can be created between lines and how to create these relationships. The course will also show you how to set and change dimensions for lines, circles, and arcs.

Next, you will learn how to create centrelines, circular patterns, mirroring, and linear patterns to build out a sketch ready for extrusion. The course will teach you how to create a solid which is a 3d model containing information about an object, work with curved surfaces using the Revolve and Revolve Cut tools, and use the Sweep function to make a solid or cut along a path that is sketched along a plane. You will also learn how to add features as fillet or chamfer.

CAD is an extremely important tool in the design and development of products. Solidworks can help designers sketch and create 2D and 3D drawings and models with accuracy and ease. By learning Solidworks' nine tools used in sketching, the mirror function, the extrude tool, the plane view, and the revolve, you will be able to create a fully defined sketch. So check out the course today and enhance your designing and drawing skills in no time.
Start Course Now