Satellite Image Interpretation Techniques
Acquire the skills for interpreting and analysing satellite images, such as radar images, with this free online course.
Publisher:

NPTEL
In this free online course in Satellite Image Interpretation Techniques, you will gain exposure to the methods of analysing radar images and images of geological structures. Satellite images contain unique information that can only be unlocked through careful interpretation. Such interpretation can help determine various changes in an area, such as crop growth rate. You will also learn about the applications of Active Microwave Remote Sensing.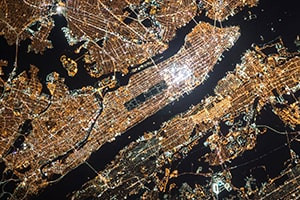 Duration

5-6 Hours

Accreditation

CPD
Description
This course on Satellite Image Interpretation Techniques will teach you how to unlock key information hidden in satellite images. First, you will learn about Hyperspectral Remote Sensing and its application. You will appreciate and compare the differences between a digital image and a digital photograph. You will be introduced to the basics of Active Microwave Remote Sensing, including the working operation and applications of Radio Detection and Ranging (RADAR).
Next, you will be shown how to interpret radar images, as well as the differences between radar images and optical images. The course introduces the Interferometric Synthetic Aperture Radar technique, including how this technique can be applied in remote sensing. You will learn the basic elements and strategies of image interpretation in remote sensing. Finally, the course uses examples of some famous landforms to illustrate how to interpret geological landforms and structures.
If you are looking to understand how to derive unique information from satellite images or want to build your expertise in the interpretation of satellite images, this course is for you. This course will provide you with the much-needed arsenal to be a distinguished satellite image interpreter. You will also learn about the application of Hyperspectral Remote Sensing and Radio Detection and Ranging (RADAR) systems, as well as the principle guiding satellite image interpretation. With all the unique content this course has to offer, start this course today and become an expert in the field of satellite image interpretation.
Start Course Now