Safety and Health in the Technology Classroom for Teachers
Learn how to use technology safely in the classroom environment and prepare for emergencies with this course.
Health
Free Course
This free online classroom health and safety course will teach you about the health, safety, and welfare concerns of technology within the classroom. This course was designed for teachers working in technologically advanced classrooms or teaching technology subjects, and in it you will learn about hazards, risks, and safe working practices as well as how to conduct health and safety audits, plan for fire safety and emergencies, and more.
Take this certificate on your own.
Start now and learn at your own pace.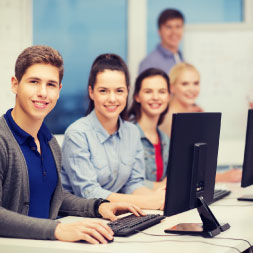 Description
This course begins by giving you an introduction to hazards, risks, and controls. You will learn that a hazard is an agent which has the potential to cause harm to a vulnerable target while a risk is the chance or probability that a person will be harmed or experience an adverse health effect if exposed to a hazard. You will look into the assessment and measurement of risk as well as how to promote a safe working condition.

You will then look into safe work practices and safety statement. With this course, you will learn that a safety statement is a written action programme that is focused on safeguarding the health and safety of an organization's workforce. You will learn how to conduct first aid and handle accidents and dangerous occurrences. You will study about electrical safety, electrical installation requirements, ergonomics, chemical hazards, handling and storage requirements, and more!

Risks and hazards in the classroom should be addresses properly for the safety of everyone. Upon the completion of this course, you will understand what measures are needed to be taken to prevent accidents. You will gain better insight into safe working practices, how to plan for fire safety and emergencies, learn about first aid, ergonomics, chemical solvents and adhesives, safety legislation, and more! Check out this course and start learning now!

Start Course Now
h