Pharmacotherapy: Nervous, Sensory & Genitourinary Systems
Study the central nervous system, sensory disorders, and the reproductive system with this free pharmacotherapy course.
Publisher:

SkillsCommons
This free online pharmacotherapy course teaches you about the Nervous, Sensory & Genitourinary Systems. Our bodies are susceptible to so many diseases and disorders, and there can often be several different treatments available depending on the severity of the disorder. With this course, you will learn about common disorders of the nervous, sensory, and genitourinary systems, and the prescription treatments used to cure or control these diseases.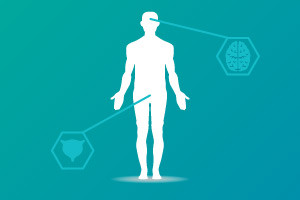 Duration

1.5-3 Hours

Accreditation

CPD
Description
This course will first introduce you to drugs that are used for the nervous, muscular, and sensory systems. You will learn about prescription medicines, non-prescription medicines, and other alternative therapies used to treat diseases of the nervous system. This will help you to understand psychiatric and mood disorders such as ADHD, Parkinson's disease, and Alzheimer's disease. You will study how they can occur, and learn the ways of treating these disorders.

You will then study the different drug therapies for central nervous system disorders and also delve into the five senses of the sensory system. You will learn about the structures and functions of the ear and eye and common disorders that arise in these areas. This course will also cover the genitourinary system, the male and female reproductive system, the effects of menopause, male and female contraceptive products, and the renal system.

Diseases and ailments are a fact of life. This course will give any learner, whether in the field of healthcare or who simply wants to acquire the knowledge, information about the nervous, sensory, or genitourinary system that will allow them to assist people who are in need. It not only teaches about the signs and symptoms of different diseases but also the therapies and medication that will help cure or control these diseases. have a look at the course today, and gain some truly valuable knowledge.
Start Course Now