Nursing Studies - Role of Nurse in Surgical Care
Learn more about the role of the nurse in the surgical care of the patient.
Free Course
Learn more about the role of the nurse in the surgical care of the patient.
Take this certificate on your own.
Start now and learn at your own pace.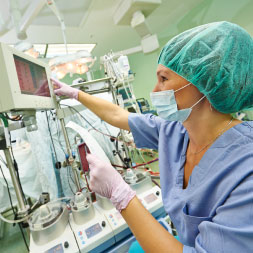 Description
Nursing staff provide essential support during all phases of the surgical cycle, which encompasses the peri-operative, pre-operative, intra-operative and recovery room phases.

In this nursing studies course the learner is introduced to the vital roles performed by the medical team throughout the surgical experience.

The range of surgical interventions performed in the treatment of disease and disorders are outlined, along with the related nursing implications and corresponding patient care procedures applied during the surgical cycle. Peri-operative patient care introduces the surgical experience with particular reference to the types and classification of surgical interventions, their function, risk level and impact on the patient.

The pre-operative phase outlines patient preparation procedures which start once surgical intervention is agreed, through to the patient's arrival on the operating table. Nursing implications, patient care, communication and the relevant documentation process are outlined.

The intra-operative phase refers to patient surgery and ends when the patient is transferred to the recovery room. The learner is introduced to the surgical team and their respective functions.

The selection, type, effect and administration method of the anaesthetic agents is also discussed. Patients are transferred directly to the Recovery Room after the surgical intervention procedure is complete and remain there until sufficiently conscious to respond to stimuli.

Key elements of the course focus on post-operative complications and patient care procedures in relation to body systems treated.

This nursing studies course will be of great interest to all healthcare professionals who would like to acquire a greater understanding of the key phases in the surgical experience and the types of surgical interventions performed in the treatment of injury, disease and disorders.
Start Course Now
h