Nursing Studies - Health and Safety, Movement and Exercise
Learn about patient care and the procedures and techniques used in modern nursing with this free online nursing course.
Publisher:

MEDCoE
This free online Nursing Studies - Health and Safety, Movement and Exercise course teaches the principles of good body mechanics required to care for immobile patients, as well as what to consider when helping patients perform physical tasks. Caring for immobile patients requires both knowledge and patience, with this clear and simple course on body positions, back alignment, and muscle use, assisting your patients will become much easier.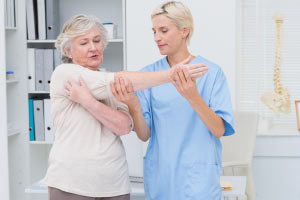 Duration

1.5-3 Hours

Accreditation

CPD
Description
This course will first introduce you to health and safety standards for healthcare professionals. You will study body mechanics so you can utilise the correct muscles to complete a task safely and efficiently. You will also learn about the most common injuries sustained by nurses as well as the importance of changing the patient's position. This course will then look into the general principles that apply when turning the adult patient. It will also discuss the common positions and techniques used when helping a patient to walk.

You will then study the active and passive ranges of motion in exercise. You will learn that a joint that has not been moved sufficiently can begin to stiffen within 24 hours and will eventually become inflexible, which is why a nurse has to perform Range of Motion (ROM) exercises on each joint in as full a range as possible without causing pain. You will also look into isometric exercises and the different types of body movements.

Learning the principles of good body mechanics and the different techniques for positioning patients will ensure that both the nurse and patient are kept safe from accidents. This course will give you an in-depth understanding of these movements and even teach you what to do if a patient begins to fall. So if you are looking into a career as a nurse practitioner or just want to refresh your knowledge on the proper body movements and exercises, take this course and help bring your patients back to their feet.
Start Course Now