Nursing Studies - Diet Therapy
Help your patient recover faster by learning about the key elements of diet therapy taught in this free online course.
Publisher:

MEDCoE
This free online nursing studies course teaches you about diet therapy and discusses intestinal, bowel, and food-related diseases. A well-nourished person is more likely to be mentally and physically lively, and capable of resisting and fighting off infectious diseases. This is why patients in a hospital are given appropriate diet to aid their recovery. You can learn all about the dietary needs of recovering patients with this free online course.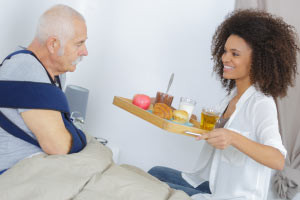 Duration

1.5-3 Hours

Accreditation

CPD
Description
This course will first introduce you to the importance of diet therapy when treating patients. You will look into the three important functions of nutrients within the body and learn that diet therapy is individualised and is frequently the primary therapy in itself. The course will discuss the factors which influence a patient's food choice and eating patterns, such as religion, emotional aspects, fads, and financial considerations to name a few.

You will then study the three factors which form the basis of care as well as the three general groups of organic diseases of the intestine. The course will also cover the three basic approaches to the diagnosis and treatment of food allergies. You will also learn the importance of mealtimes in a patient's long day, as well as how a patient's diet plays an integral part in their overall treatment plan.

Every nurse needs to be familiar with diet prescription and its therapeutic purpose, as well as be able to relate the diet to body functions and the conditions being treated for the benefit of the patient. This Nursing Studies - Diet Therapy course is designed to teach you everything you need to know on this vital topic. If you want to help your patients to get the right nutrients to combat diseases, take this course today and learn what you need in just a few short hours!
Start Course Now