MS Office 2013 Transition is a free online course that explores the latest features in the productivity suite of applications from Microsoft. Learn about some of the enhanced features in MS Word, MS Excel, MS PowerPoint, MS Access, and MS Outlook. This course will help you come to grips with discovering and using the newest added features and improvements. Register for this course today and boost your productivity with these MS Office skills!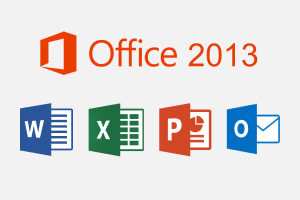 Duration

3-4 Hours

Accreditation

CPD
Description
Microsoft Office is a family of client software, server software, and services developed by Microsoft. Initially a marketing term for an office suite (bundled set of productivity applications), the first version of MS Office contained Microsoft Word, Microsoft Excel, and Microsoft PowerPoint. MS Office helps simplify basic office tasks and improve work productivity. Each application is designed to address specific tasks, such as word processing, data management, making presentations and organizing emails. Some of the new features include a new read mode in Microsoft Word and a presentation mode in Microsoft PowerPoint. There is also an improved touch and inking feature in all of the Office programs. The Office Web Apps suite was also updated for Office 2013, introducing additional editing features and interface changes. This Microsoft Office 2013 Transition course will help you bridge the gap from the version you already know and love to the latest release of Microsoft's flagship productivity suite.
To ensure your success, you will need to have familiarity with either the Office 2007 or Office 2010 suite of products, including Word, Excel, PowerPoint, Access, and Outlook. This course builds upon the foundational Microsoft Office knowledge and skills you've already acquired and will provide a detailed overview of the new format and new features that you will find when transitioning from the earlier version of Office to Office 2013. You will learn about the new online storage and sharing options available and the user interface updates. You will also discover the new features in Word, Excel, PowerPoint, Access, and Outlook. Just a few of these new features include things like FlashFill, the new Excel charting features, PowerPoint Eyedropper, Outlook peek views, and so much more. Each new release of Microsoft Office improves on the achievements of the previous versions. Upgrading your version of Office can be very challenging as you struggle not only to locate some of the tools you know and love.
Microsoft Office is a suite of applications that is in high demand and has proven critical to the day to day operations of any organization. This course will help you come to grips with discovering and using the newest added features and improvements. This course is specifically focused on the common applications from the Microsoft Office suite that are used by almost every organization. The course is essential to allow smooth transition from the older Microsoft Office versions to the latest Microsoft Office 2013. Upon course completion, you will be able to identify the features that are common to all applications in the Microsoft Office suite. You will also explore the unique and enhanced features of the MS Office applications. If you are looking to upgrade your knowledge and skills in the Microsoft Office suite, this course will be a great fit for you. So, register for this course today and begin your next learning journey!
Start Course Now