Master the PIC Microcontroller and Watchdog Timers
Explore timers, and which are available for PIC Microcontrollers to suit your next project with this free online course.
Publisher:

Ashraf Said AlMadhoun
This free online course on how to Master the PIC Microcontroller and Watchdog Timers highlights how to utilize registry guidance to manage time. You will learn about various timers, their respective functions and features and how to select the most suitable one for your projects. If you are curious about PIC Microcontroller time registers and their vast applications, then this PIC Microcontroller tutorial is the perfect place to start.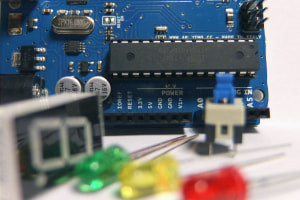 Duration

3-4 Hours

Accreditation

CPD
Description
Discover the world of timers, the PIC Microcontroller and everything in between where you will learn all there is to know about this technical field. This course is split into three main sections including more about timers and their features, the software applicable as well as practical exercises for you to do in order to practice your new skills. In the first section, you will discover how timers work, the various timers available and their features, and how to use registers to manage time in your designs. You will explore the pros and cons of the delay function and why Watchdog Timers offer so many advantages. The first section concludes with an in-depth discussion on how to read the PIC Microcontroller registers datasheet to get the correct timer information and why programmers tend to shy away from using the delay function. 
In the software section of the course, you will cover the most popular software used for designing and programming with a specific focus on two software programmes. The content covers the cost, functionality and features of these two programs, how to download their respective demo versions and some of the built-in functionality that help make them user- and design-friendly, and efficient. Some features also assist in the design process and these skills can be used by seasoned programmers as well as beginners alike. The last part of the course will show you the step-by-step process to apply your new knowledge and skills and will provide you with practical examples of designing and programming using the software, and how to use the applications. The content includes everything from simple tasks such as opening the app, to designing and saving your work. Where to download and pay for the paid version of the applications is covered in your learning as well. 
This course is suited for PIC Microcontroller gurus, anyone interested in PIC Microcontrollers or its time registers and you should enrol if you have a passion for computer hardware and need to use it in your line of work or to simply improve your home computing setup.
Start Course Now